Factory Orders: Modest Growth Is Better Than No Growth
New orders for manufactured goods — both durable and non-durable — increased 1.8 percent in December to $484.8 billion, according to the U.S. Census Bureau. December's official manufacturing report came in below expectations for 2.4 percent growth in new orders, but is still a positive indicator following November's 0.3 percent decrease.
The increase in new orders was led by an 11.7 percent pop in orders for transportation equipment. This surge followed two consecutive months of declines, which is indicative of the seasonal nature of sales of transportation goods. Because of this seasonality, transportation goods are often factored out of new orders results. December's reading without transportation goods shows just 0.2 percent growth.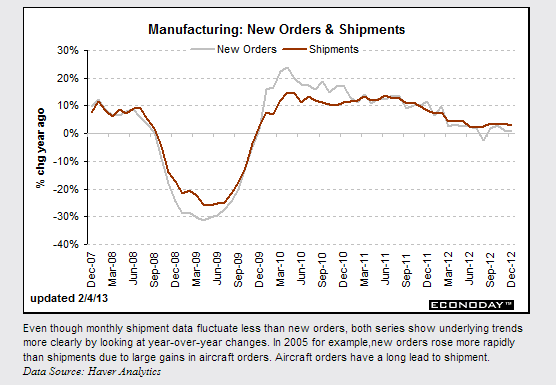 Shipments, which are an indicator of current sales, increased 1.1 percent for manufactured durable goods, to $230.1 billion, slightly below preliminary reports for 1.3 percent growth. However, shipments of non-durable goods contracted for the second month in a row, down 0.3 percent. This was led by a 4.3 percent decline in beverage and tobacco products shipments. Primary metals had the largest increase at 4.0 percent.
Inventories for manufactured durable goods, which indicate the strength or weakness of current and future production, fell fractionally for the 14th consecutive month, to $374.5 billion. However, inventories of manufactured non-durable goods increased 0.2 percent to $241.0 billion. Increases in the value of inventories for non-durable goods has outpaced a long but very slow decline in the value of inventories of durable goods, pushing the total value of inventories higher over the past two years.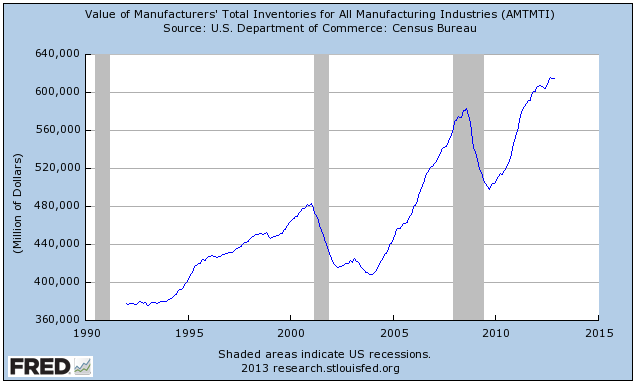 Don't Miss: Here's Bank of America's $40 Billion Backpack.