Factory Orders Reveal that U.S. Investment Edged Lower in December
The Factory Orders Report released by the U.S. Department of Commerce on Monday was packed with useful economic information. The Factory Orders Report is a tool that investors can use to develop their understanding of the economic environment against which they have to make investment decisions. If all the indicators say growth, then the rotation into equities makes sense as corporate profits are bound to rise. If all the indicators say sluggishness, then the bond market gets a lot of attention.
If the indicators are mixed, then the value of reading details increases. So let's cut through the fat — the obvious stuff — quickly and get to a small piece of pessimistic news buried below the headlines.
Overall, new orders for manufactured goods increased 1.8 percent in December to $484 billion. This is below estimates for 2.4 percent growth, but a marked improvement over November's 0.3 percent contraction. This gain was led by an 11.7 percent increase in orders for manufacturing equipment to $75.6 billion. Factoring out transportation equipment orders, which usually swing pretty wildly, new orders increased 0.2 percent.
The factory sector may no longer be the economy's primary engine, but it's definitely plugging along.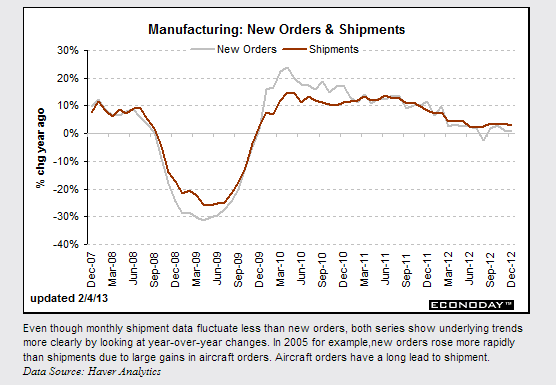 Investors who are not also goldfish will remember that the preliminary reading for fourth-quarter GDP in the United States unexpectedly contracted 0.1 percent, instead of growing an expected 1.0 percent. This contraction was led by an annualized 6.6 percent decrease in government spending. This cut GDP growth by an estimated 1.27 percentage points.
This makes December's 110.3 percent increase in defense capital goods orders all the sweeter. Defense spending is a fuzzy area, but the steep increase suggests that first-quarter GDP growth many not be as negatively impacted by sharp declines in government spending.
What's also worth pointing out is the negative growth in new orders for non-defense capital goods that exclude aircraft. These types of capital goods are generally those that companies purchase when they are investing for future growth — machines to make things.
New Orders

Monthly ($) in millions


Percent Change


Dec. 2012
Nov. 2012
Oct. 2012
Nov.-Dec.
Oct.-Nov.
Sep.-Oct.
Total Capital Goods
90,030
79,047
80,406
13.9
-1.7
1.4
Non-defense Capital Goods
73,591
71,229
72,800
3.3
-2.2
2.6
Excluding Aircraft
63,646
63,846
61,830
-0.3
3.3
3.0
Defense Capital Goods
16,439
7,818
7,606
110.3
2.8
-9.3
The previous estimate for the November-December change in non-defense capital goods orders excluding aircraft was positive, up 0.2 percent, but the revised figure reported on Monday was -0.3 percent. This is not a tremendous decrease, but it has raised a few eyebrows. The contraction could be an indicator that companies are feeling hesitant about investing as malaise continues to hang heavily on the economy.
Don't Miss: Factory Orders: Modest Growth Is Better Than No Growth.