FactSet Research Systems Inc. Earnings Cheat Sheet: Profit Rises for Third Straight Quarter
FactSet Research Systems Inc. (NYSE:FDS) reported its results for the third quarter. FactSet Research Systems Inc. is a provider of integrated global financial and economic information, including fundamental financial data on tens of thousands of companies worldwide.
Don't Miss: Wall St. Cheat Sheet's newest Feature Trades of the Month!
FactSet Research Systems Earnings Cheat Sheet for the Third Quarter
Results: Net income for FactSet Research Systems Inc. rose to $43.3 million (92 cents/share) vs. $38.7 million (81 cents/share) in the same quarter a year earlier. A rise of 12% from the year earlier quarter.
Revenue: Rose 14.6% to $183.6 million YoY.
Actual vs. Wall St. Expectations: FDS fell in line with the mean analyst estimate of 92 cents/share. Estimates ranged from 90 cents per share to 92 cents per share.
Quoting Management: "FactSet continued its strong performance during the third quarter as key operating metrics experienced healthy growth," said Philip A. Hadley, Chairman and Chief Executive Officer. "It is gratifying to see our hard work and investments show such positive results."
Key Stats:
The company has now seen net income rise in three-straight quarters. In the second quarter, net income rose 25.3% and in the first quarter, the figure rose 15.1%.
Revenue has risen the past four quarters. Revenue increased 12.9% to $177.6 million in second quarter. The figure rose 11.6% in first quarter from the year earlier and climbed 8.2% in fourth quarter of the last fiscal year from the year-ago quarter.
Competitors to Watch: MSCI Inc. (NYSE:MSCI), Morningstar, Inc. (NASDAQ:MORN), Thomson Reuters Corp. (NYSE:TRI), EDGAR Online, Inc. (NASDAQ:EDGR), The McGraw-Hill Companies, Inc. (NYSE:MHP), Envestnet, Inc. (NYSE:ENV), IHS Inc. (NYSE:IHS), News Corporation (NASDAQ:NWSA) and  JPMorgan Chase & Co. (NYSE:JPM).
Stock Performance: Shares of FDS are trading lower 1% at $102.98.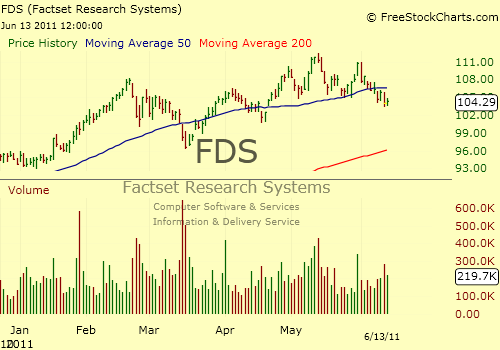 Don't Miss Wall St. Cheat Sheet's newest Feature Trades of the Month!
(Source: Xignite Financials)