Fairchild Semiconductor International Earnings: Look Out Below
Fairchild Semiconductor (FCS) reported its results for the first quarter, and investors did not like what they saw. Fairchild Semiconductor International, Inc.is focused on developing, manufacturing and selling power analog, power discrete and certain non-power semiconductor solutions to a range of end market customers.

Fairchild Semiconductor Earnings Cheat Sheet

Results: Net income for the semiconductor company rose to $43.5 million (33 cents/share) vs. $22.6 million (18 cents/share) YoY. A rise of 92.5% from the year earlier quarter.

Revenue: Rose 9.3% to $413 million YoY.

Actual vs. Wall St. Expectations: FCS fell short of the mean analyst estimate of 36 cents/share. Estimates ranged from 34 cents to 38 cents.

Quoting Management: "We got off to great start for 2011 by delivering strong sales growth and gross margin at the high end of expectations," said Mark Thompson, Fairchild's Chairman, CEO and president. "We grew PCIA sales nine percent sequentially due to the capacity additions we made to support strong demand from industrial, automotive, appliance and alternative energy customers. We have excellent backlog visibility in this business and continue to add capacity to support our customers' requirements. We posted one percent sequential sales growth in our MCCC business which is particularly notable given normal end market seasonality and the weakness seen in the computing and consumer segments. MCCC sales growth was driven by further share gains in smart phones, tablets and consumer applications. Our standard product sales were down sequentially as we continue to shift capacity to higher margin business. Our core businesses, which now drive 90 percent of our total sales, are growing well and we expect to continue this trend as we enter what is typically the highest demand quarters of the year."

Key Stats:
Over the last five quarters, revenue has increased 32.6% on average year over year. The biggest increase came in the first quarter of the last fiscal year, when revenue rose 69.3% from the year earlier quarter.

Competitors to Watch: Analog Devices, Inc. (NYSE:ADI), Texas Instruments Incorporated (NYSE:TXN), Intel Corporation (NASDAQ:INTC), ON Semiconductor Corp. (NASDAQ:ONNN), National Semiconductor Corporation (NYSE:NSM), Intersil Corporation (NASDAQ:ISIL), STMicroelectronics (NYSE:STM), and Maxim Integrated Products Inc. (NASDAQ:MXIM).

Today's Performance: Shares of FCS closed at $18.31, down 4.54%.
Insider Activity: Wall St. Watchdog says insider activity is neutral.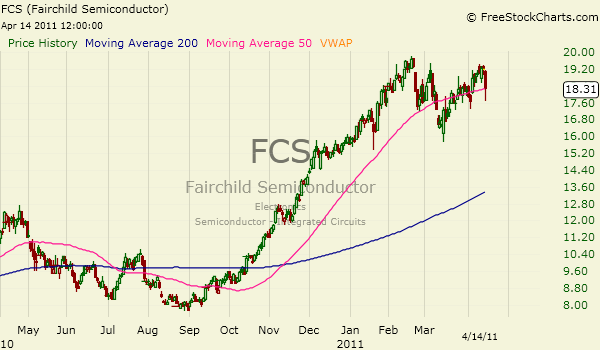 Don't Miss Wall St. Cheat Sheet's newest Feature Trades of the Month!