Families Abandon the Town of Mayflower, Arkansas After Exxon Oil Spill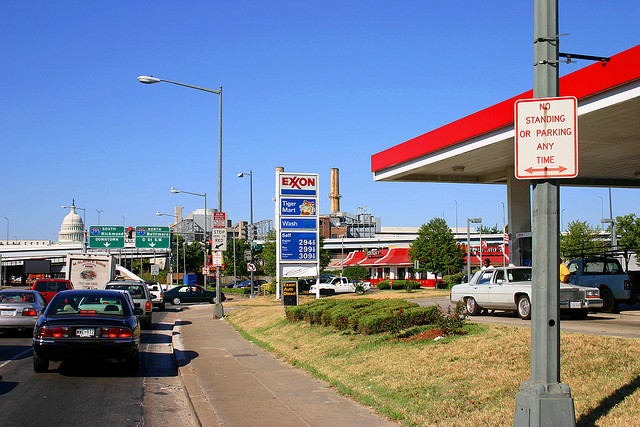 On March 29, 2013, an Exxon Mobil Corporation (NYSE:XOM) pipeline carrying heavy crude oil from Canada's oil sands ruptured in a quiet neighbourhood of Mayflower, Arkansas, spilling between 5,000 and 7,000 barrels of oil.
Whilst the clean-up began almost immediately, the neighbourhood of Northwood has now become a prime example of why so many U.S. property owners fight to prevent oil companies laying pipelines across their land.
It is now eight months since the spill and nearly half of the residents of Northwood have put up their houses for sale as they look to escape the area and begin their lives anew. April Lane, a community health worker who was helping the spill victims, said that, "The area is blanketed with 'For Sale' signs," with 29 of the development's 62 homes on the market, of them already sold to ExxonMobil under their buy-out program.
ICN reported that some people were forced to sell their homes because oil had settled into the foundations, weakening their structural integrity and forcing them to be demolished. Other people chose to leave the area because they were worried about the potential health effects of the spill, or the affect that it could have on local property value.
Unfortunately, for the same reason people want to sell their homes, others don't want to buy. Ryan Senia, a 30-year-old bachelor who bought his home in 2009, explained that, "It's like selling a salvaged car — nobody wants to buy it." The only entity willing to pay is Exxon Mobil itself, who has already bought 20 of the 29 homes up for sale.
Kim Burks, an estate agent with Crye-Leike, said that the Northwood neighbourhood "had beautiful resale value before the oil spill — one of the only areas in Mayflower with nice, new homes like that." Unfortunately, if sellers aren't willing to accept Exxon's money for their homes, it is going to be very difficult to find any other interested parties. Glen Rega, another agent from Crye-Leike, said that they are "in an ambiguous situation that's never happened before. I'm sure once the first buyer goes in there and doesn't have any issues, then more will see the value that's there."
Originally written for OilPrice.com, a website that focuses on news and analysis on topics of alternative energy, geopolitics, and oil and gas. OilPrice.com is written for an educated audience that includes investors, fund managers, resource bankers, traders, and energy market professionals around the world.
Don't Miss: 5 Simple Steps to Repair Your Retirement Nest Egg.