Farm Bill: Dead-On-Arrival or Key Policy Change?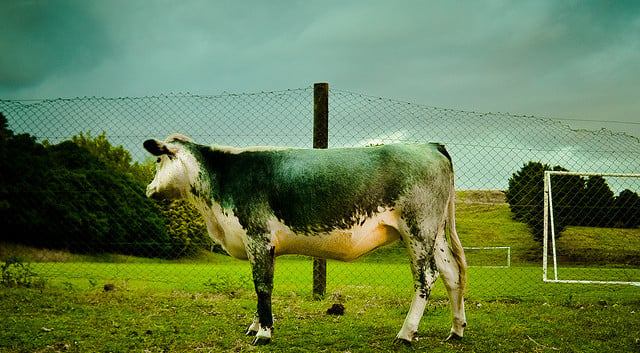 Current federal farm and food aid policy will expire on September 30, meaning that if Congress fails to pass a new bill by the deadline, American farmers will be subject to a 1949 law governing the industry, a move that could lead to steep prices on food items like milk. House Republicans representing rural districts are facing pressure from their constituents for so far failing to approve the necessary legislation, prompting the party's leaders to rush to set up a vote on Thursday for a bill that left many lawmakers on both sides of the aisle disappointed.
House Republicans passed the Farm Bill by separating the funding for food stamps from federal agricultural policy, a move that angered both the Obama administration and congressional Democrats who attempted to delay the final vote. The legislation, passed by a slim margin of 216 votes to 208, mandates changes to agricultural policy, and ends direct subsidy payments to farmers. But the bill makes no mention about the funding for the Supplemental Nutrition Assistance Program, or foods stamps, which historically draws approximately 80 percent of the funding in the Farm Bill.
No House Democrats voted in favor of the bill, and twelve Republicans also opposed it. Speaker of the House John Boehner, a Republican from Ohio, cast his ballot in favor of the law, even though speakers traditionally do not vote.
During Thursday morning's debate, several Democratic representatives argued against the exclusion of the nutrition title, which is the portion of the bill that sets aside funding for food stamps. Their claim was that that omission would hurt "the children of America" and increase "hunger in America."
"It appears to have no nutrition title at all, is this a printing error?" Rep. G.K. Butterfield, a Democrat from North Carolina, asked rhetorically on the House floor. To ally similar fears and garner more support, Republicans assured Democrats that food stamp funding will be voted on separately at a later date. And, it is true that SNAP does not need to be reauthorized to stay in effect. Congress will still need to appropriate the necessary funds, but that is a process done separately through appropriations, an act that would likely proceed even if the farm bill were tied up.
Republican Rep. Bob Gibbs of Ohio, a member of the House Agriculture Committee, said that it was necessary to further the legislative process in order to ensure that negotiations between the House and Senate can finalize the bill later in the summer. But the vote also makes clear that Republicans intend to make a noticeable reduction to food stamp money, and handed the party's leaders an important victory after an earlier version of the bill was voted down three weeks ago.
The White House said on Wednesday that President Barack Obama would veto any Farm Bill that failed to address federal farm and food aid policy. Officials said in a statement that they had insufficient time to review the bill, but they offered a critique.
"It is apparent, though, that the bill does not contain sufficient commodity and crop insurance reforms and does not invest in renewable energy, an important source of jobs and economic growth in rural communities across the country," the statement said. "Legislation as important as a Farm Bill should be constructed in a comprehensive approach that helps strengthen all aspects of the Nation."
House Minority Whip Steny Hoyer, a Democrat from Maryland, claimed the legislation was a "bill to nowhere," adding that Senate Democrats would reject the House version. "This dead-on-arrival messaging bill only seeks to accomplish one objective: to make it appear that Republicans are moving forward with important legislation even while they continue to struggle at governing," he said.
Don't Miss: Cursed? Boeing 787 Fire Sends Shares Reeling.
Follow Meghan on Twitter @MFoley_WSCS