Fast-Food Workers Strike for a Living Wage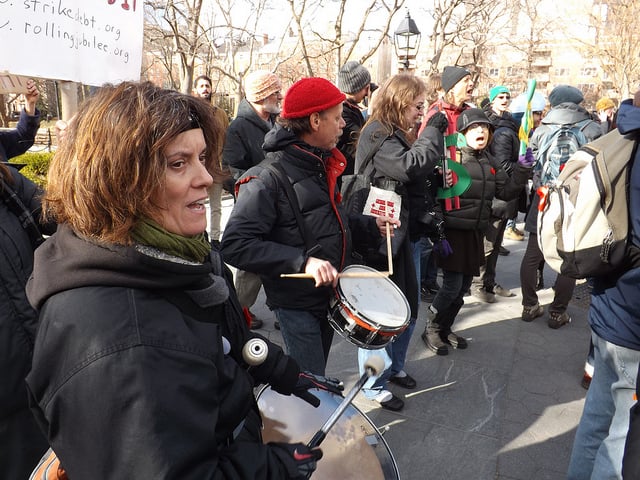 Workers from the nation's best-known and most profitable fast-food restaurants — including Wendy's (NASDAQ:WEN), Burger King (NYSE:BKW), and McDonald's (NYSE:MCD) — staged one-day strikes Monday as part of their protest against the low wages paid in one of the most rapidly growing sectors of the United States's labor market. They said they want to be paid a living wage of $15 per hour and have the right to form a union.
Protesters from both the fast-food restaurant labor force and the nascent living wage movement are hoping that the thousands of striking workers who are expected to walk off their jobs in seven major U.S. cities will bring attention to the cause. Employees are striking in New York, Chicago, St. Louis, Detroit, Milwaukee, Kansas City, Missouri, and Flint, Michigan, organizers of the Fast Food Forward movement said in a statement emailed to Bloomberg.
The living wage movement has gained momentum in the past month. While the discussion has been taking place largely at local level in Washington, D.C., Monday's protests will bring the issue into the national conversation.
In June, the Washington, D.C., city council approved a bill called the Large Retailer Accountability Act — also known as the living wage law — that requires big-box stores, those doing business in spaces with more than 75,000 square feet and more than $1 billion in annual sales, to increase the minimum wage paid to employees from the city's current minimum wage of $8.25 to $12.50 per hour. The introduction of the minimum wage bill raised concerns for Wal-Mart.
"This legislation is arbitrary and discriminatory" and "discourages investment in Washington," Wal-Mart executive Alex Barron wrote in an op-ed published in The Washington Post several weeks ago. Employing 1.4 million people in the United States, Wal-Mart is the largest private employer in the nation, and, as such, its labor practices and poor relationship with unions have made the company a go-to example for lawmakers.
Fast-food and retail workers have been striking for higher wages throughout 2013. In April, about 400 workers from more than 60 fast-food restaurants in New York walked out, calling for fast-food giants like McDonald's, Wendy's, Burger King, and Yum! Brands's (NYSE:YUM) KFC and Taco Bell to raise their wages.
Currently, minimum wage is as much as $7.25 per hour in the city, but food service workers often earn as little as $4.65 per hour because their total compensation includes expected tips. The median pay for the 50,000 fast food workers in New York City is $9 per hour, or $18,500 per year, according to the New York Labor Department. But even that figure comes in $4,500 lower than the Census Bureau's poverty income threshold level of $23,000 for a family of four. According to the Bureau of Labor Statistics, fast-food cooks make $9.02 per hour on average, or about $18,760 per year.
"With the Occupy movement and discussion about the 1 percent, people are much more aware about the increase in inequality," Janet Currie, an economics and policy affairs professor at Princeton University, told Bloomberg. "There are a lot of people right at the top of the distribution who are doing better than that segment of the population has since the 1920s, and that's driving a lot of the income inequality."
The Occupy Wall Street Movement began in New York in 2011, focusing on multinational corporations, large banks, and the richest 1 percent of people that hold most of the nation's wealth.
President Barack Obama has called for an increase the federal minimum wage to $9 from $7.35, but lawmakers have done nothing in that arena; Congress last voted to raise minimum wage in 2007. The fact that any attempts to raise minimum wage have stalled has given activists even more urgency.
In June, the leisure and hospitality industry, a sector that includes fast-food restaurants, added 75,000 jobs, according to the Bureau of Labor Statistics; the leisure and hospitality industry is adding jobs faster than any other sector of the United States economy.
In response to the growing conversation over a living wage, McDonald's CEO Don Thompson told Bloomberg Television last week that the fast food chain is an "above minimum-wage employer." And in an emailed statement, company spokeswoman Ofelia Casillas told the publication that the "majority of McDonald's restaurants across the country are owned and operated by independent business men and women where employees are paid competitive wages, and have access to flexible schedules and quality, affordable benefits."
Workers from Domino's Pizza (NYSE:DPZ) and Subway are also striking this week.
Follow Meghan on Twitter @MFoley_WSCS