Fatburger Beef Patties Coming to a Walmart Near You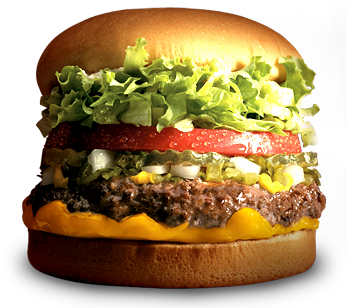 The Fatburger is coming to Walmart (NYSE:WMT)
Walmart will soon start selling frozen beef patties of the Fatburger brand in stores across the United States. Fatburger is a subsidiary of Fog Cutter Capital Group. The burgers will be sold for around $7 or $8 in packs of six, said Andy Wiederhorn, CEO of Fatburger. The move comes close on the heels of Walmart's latest bad publicity: the building collapse in Bangladesh that killed more than 1,100.
Fatburger is a California-based fast-food burger chain that operates 150 locations across the world. The Fatburger brand beef patties that will be sold at Walmart locations in coming weeks are being sourced by Walmart and Fatburger is lending its name and recipe, reports USA Today. Walmart primarily caters to a cash-conscious customer base with its "Always Low Prices" slogan but branded products generally have higher profit margins.
Walmart remains a popular target of protesters
Walmart recently decided to audit the facilities of the company it sources garments from instead of signing a legally binding accord to help manufacturers pay for necessary safety improvements, much like J.C. Penney (NYSE:JCP) did. The prices Walmart pays for consumer goods will not stay as low as they are forever. Increased safety for workers in countries like Bangladesh translates into higher prices. The price of food in the U.S. could also go up because of immigration reform. It is important for the company to start to develop more lucrative ways to entice customers into its stores.
Walmart has an image problem but its prices are low enough that consumers keep coming back, week after week. The company's stock has performed well over the past six months, climbing around $8 per share. The deal with Fatburger and others like it can only help the company grow from being a retailer that competes primarily with low prices and wide selections to a company that does not always have to have the lowest price in town.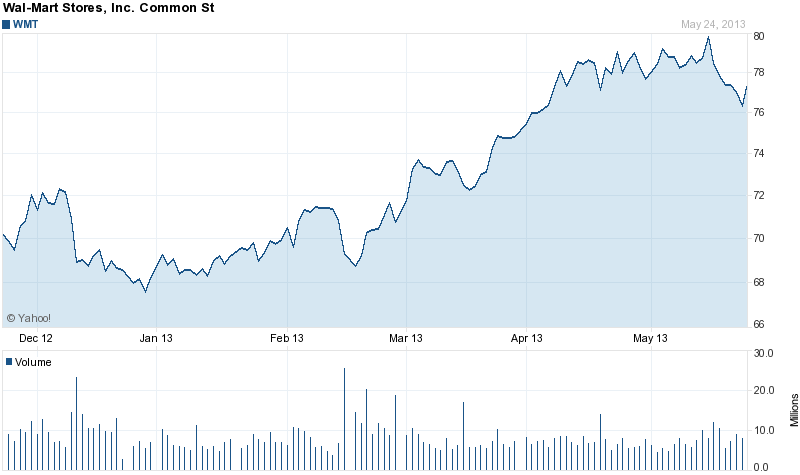 Graph courtesy of Yahoo! Finance
Follow Mont on Twitter @mfcessna
Don't Miss: Is This Saks Talk Threatening Nordstrom?