FB's CEO Comments on U.S. Government Surveillance and 2 Other Hot Stocks to Watch
Facebook Inc. (NASDAQ:FB): Current price $45.64
On Wednesday in Washington, Chief Executive Mark Zuckerberg said at an event hosted by Atlantic that revelations concerning United States government surveillance hurt the trust of users in Internet firms, and that learning more about the programs should help relieve some of the public fears.
The Facebook executive urged the government to release to the general public more information about its requests for data it makes to Internet businesses, commenting in part that, "What I can tell from the data that I see at Facebook is that I think the more transparency and communication the government could do about how they're requesting the data from us, the better everyone would feel about it." During his visit to the capital, Zuckerberg also held meetings with members of Congress from both parties to lobby for immigration reform.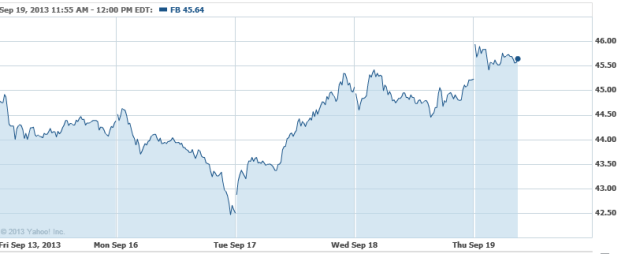 Oracle Corp. (NASDAQ:ORCL): Current price $33.64
It has been announced that the German Federal Employment Agency, Bundesagentur für Arbeit, has deployed Oracle Enterprise Manager 12c to supply a comprehensive management solution for its Oracle application platform. Supporting over 6 million customers, and with the rapid growth of its information tech department, the agency needed a management solution to aid it in increasing IT efficiency while reducing complexity.
Oracle Enterprise Manager 12c oversees thousands of Oracle WebLogic Server instances spanning the test, stage, and production environments within the BA data centers. These Oracle WebLogic Server instances, which are expected to grow to in excess of ten thousand in the near term, span over 150 physical servers and host more than 5,000 application deployments.

Pandora Media Inc. (NYSE:P) Current price $26.76
Pandora has announced the pricing of an underwritten public offering of 18.2 million shares of its common stock at a public price of $25 per share. All told, 13 million shares are being offered by Pandora, along with 5.2 million shares being offered by the selling stockholder. Beyond that, the company has granted the underwriters a 30-day option to  buy up to an additional 2.73 million shares to cover any over-allotments. The offering should close on September 24.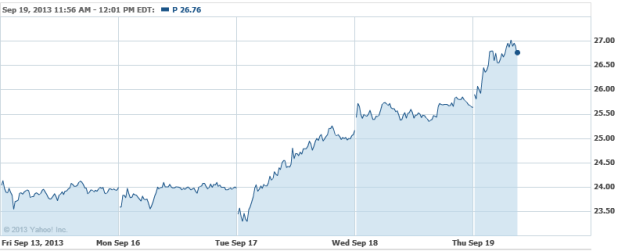 Don't Miss: Oracle Hits the Ground Running With First-Quarter Results.