Fed Tapering Concerns to Thank for Treasury Bond Sell-Off?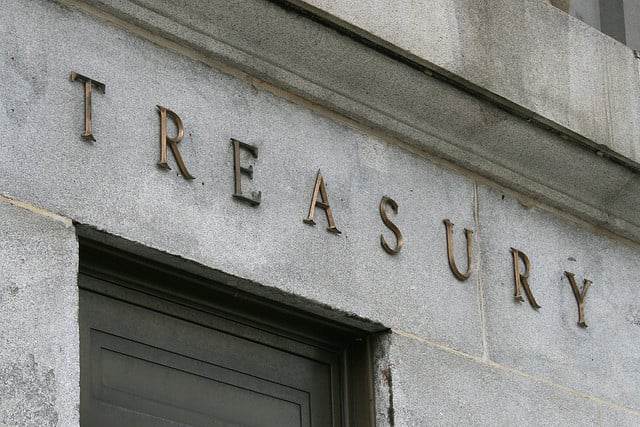 Foreign investment in U.S. securities picked up steam toward the end of last year, but throughout the first half of 2013 the fierce political battle between congressional Republicans and Democrats over how best to restructure and repair the financial pillars of the national economy worried investors.
Treasury International Capital declined for the fourth consecutive month in May, a sign that foreign demand for U.S. assets remains weak. The Department of the Treasury reported Tuesday that net private outflows rose to their highest level since November 2008. In May, private investors sold $29 billion in U.S. Treasury bonds, the largest quantity since January, with foreign investors selling $27.2 billion in long-term U.S. securities during the month. That compared to net sales of $21.8 billion in April.
Private investors started selling bonds in greater numbers when concerns arose that the Federal Reserve would soon begin scaling back its stimulus program. Speaking to the Joint Economic Committee of Congress on May 22, Fed Chairman Ben Bernanke explained how the central bank could begin to ease its bond purchases, and those comments led to a rout in the bond market.
However, global investments in bonds outweighed the bond selloffs. On a net basis, the Treasury Department's data showed an inflow in U.S. Treasury bonds of $11.3 billion compared to an outflow of $38.3 billion in April.
"The net long-term outflow picture likely correlated with the major sell-off in bonds in May, with expectations of a Fed tapering," Commonwealth Foreign Exchange chief market analyst Omer Esiner told Reuters. He credited the overall net inflow in U.S. Treasuries to a flight-to-safety bid. "Global market volatility was high in May due to all the tapering concerns. Global equities sold off, including emerging markets and so net-net, the flight to safety offset the bond sell-off," he said.
Official buyers, which include foreign central banks, bought a net $40.3 billion in U.S. Treasuries. China, the United States's largest foreign creditor, increased its Treasury holdings to $1.3159 trillion. In comparison, Japan decreased its holdings to $1.111 trillion.
The U.S. stock market also fell out of favor with global investors. In April, foreigners bought $11.2 billion in equities, but also pulled out a total of $8.6 billion in May. Foreigners also sold $10.3 billion in U.S. agency debt after buying $22.8 billion in April.
Follow Meghan on Twitter @MFoley_WSCS
Don't Miss: The Housing Market Receives Another Bubble-Like Boost.