Federal Job Cuts: Popularity Contests Are No Insurance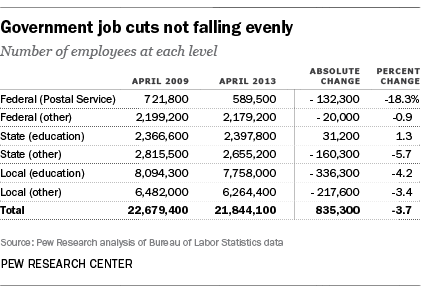 Recent Pew research has shown that government and government agencies have been hemorrhaging jobs at disproportionally higher rates than the rest of the public sector.
State, local, and municipal governments — those among the most favorably viewed by Americans — have lost a substantial number of jobs, while the private sector tries to pick up the slack in driving employment. Over 60 percent of Americans view their local governments favorably, yet local schools have lost 336,300 jobs since the recession began, with an additional 217,600 jobs being trimmed by municipalities outside the education sector. State governments, with an approval rating of 57 percent, have shed 160,300 jobs in an attempt to balance their budgets.
This would leave, then, the federal government, coming in with a dismal 27 percent approval rating. Over the last four years, the federal government has shed only 20,000 jobs, or a decrease of less than 1 percent. This, of course, leaves aside the postal service, which by itself, polls extraordinarily well. In 2010, Pew found that 83 percent of Americans had a positive view of the postal service, with 60 percent in a recent NBC News/The Wall Street Journal poll declaring that they harbored "very" or "somewhat" positive feelings towards the service. However, as fiscal realities take root in Washington, and the postal service fails to find a competitive niche for itself in the industry, it has eliminated 132,300 jobs since April 2009, or a change of -18.3 percent.
A 2012 Yale study measured which states were hit hardest and found that California and Florida suffered most during the recession, factoring in aspects like poverty, college degrees, and unemployment. The study also looked at income losses by state, with much of the northeast being affected the least during the immediate aftermath of the recession. Political science professor Jacob Hacker claims there were signs of economic insecurity as far back as 1986.
Accounting for only job losses, the Economic Policy Institute shows that Nevada, Michigan, and Arizona were impacted the most as governments and the private sector both cut jobs. In looking at solely public sector cuts, Texas has accounted for 31 percent of job losses since 2010, according to a Roosevelt Institute study, with Alabama, Indiana, Maine, Michigan, Minnesota, Montana, New Hampshire, North Carolina, Ohio, Pennsylvania, and Wisconsin making up another 40.5 percent of losses.
According to Pew, though, state education has added jobs since 2009, creating about 31,000 positions across all 50 states. Despite colleges facing budget cuts from legislatures, they have managed to create jobs through tuition increases. However, in response to this, some states like Michigan have placed caps on the percentage amount universities can raise their tuition if they want to maintain their share of state funding.
Don't Miss: Does the Pope Invest In Stocks? You Will Soon Find Out.