Federal Reserve: Time to Cut Back on Bond Purchasing?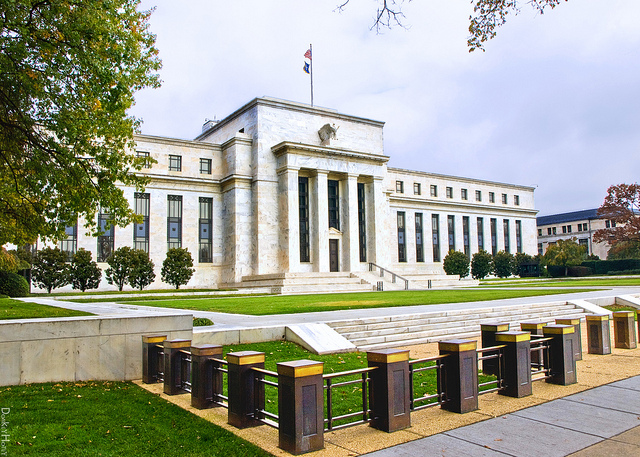 Post-shutdown, the U.S. economy has been left in shadow — it's difficult to fully make out the details. The hazy future of our country is most salient to the Federal Reserve's decision on whether to cut back on its immense bond purchases.
"We need more information about how the economy is proceeding, how we are going to weather the most recent government shutdown. I think the most likely outcome is one where we continue to go for a couple of meetings to assess this," Fed President Charles Evans of the Chicago Federal Reserve Bank told Reuters. Meetings occur every six weeks for the Fed, meaning one meeting will be at the end of October, and one mid-December — if Evans is correct, even an assessment of the situation could go for months.
"It would be not worth your while for me to speculate about whether it's going to be in December, January, March. We are going to have to see how things are going," said Evans. He did note though, that for him personally, "I believe this program should continue until we are confident that there has been a sustainable improvement in the labor market. It is not yet time to remove accommodation."
Dallas Fed President Richard Fisher, who has been fuming against the president in recent days — and who usually would find some way to disagree with Evans –  surprisingly, tended to agree. He said that he, too, would wait until the December 17-18 meeting before attempting to decrease the Fed's present $85 billion bond purchases per month.
"I don't like the course we're on. But my view will be to stay the course at the next meeting," said Fisher. Some of his concerns deal with the possibility that the Fed's current purchasing program could be creating a housing bubble — a scary prospect, as just such a bubble may have contributed to the 2007-2009 recession.
"I'm beginning to see signs not just in my district but across the country that we are entering, once again, a housing bubble. So that leads me to be very cautious about our mortgage-backed securities purchase program," said Fisher. Even so, he explained his hesitation, saying, "Given all this uncertainty it would be hard for me even to argue a change in course of monetary policy," according to Reuters.
Kansas City Fed Esther George had no such reservations, however, voicing every intention of trying to cut back on bonds in October. "I think to start that now would give us time to see how the economy reacts to that and not get behind in meeting our responsibilities," she said.
As to whether the situation was too shadowy, George said: "We are missing a few pieces of date that we would normally have as a result of the government shutdown. But let me assure you, we are still quite able to monitor and judge the economy's progress from other sources of information."
Non-vote holding Minneapolis Fed President Narayana Kocherlakota said Thursday that he believes a scale-back would be a mistake, according to Reuters. "Talking about reducing stimulus right now because we are sufficiently satisfied with where we are in the labor market outlook I think that sends exactly the wrong message," said Kocherlakota. Instead, Kocherlakota insists that politicians need to get their ducks in a row before monetary policy can really be improved, especially solidifying confidence that long-term inflation will be somewhat stable.
Don't Miss: Hedge Fund Group Burned Over Insider Trading.