Federal Reserve: Yes, the Housing Market Is Slowing Down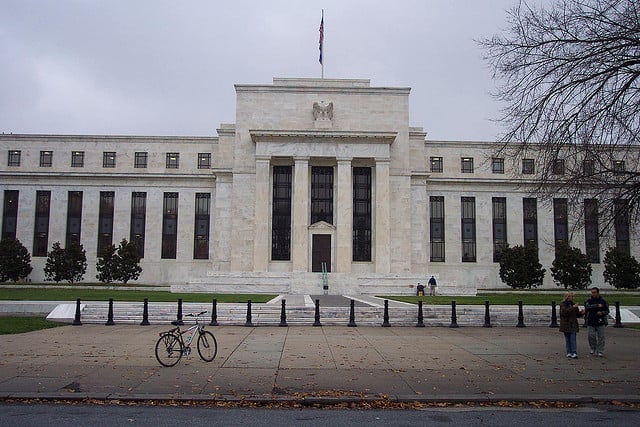 With the help of record low interest rates and a large amount of intervention from policymakers, the real estate market has been one of the strongest pillars of the economy following the credit meltdown of yesteryear. However, signs of a slowdown are appearing, and the Federal Reserve is taking notice.
The central bank concluded its latest two-day policy meeting on Wednesday and released its Federal Open Market Committee statement. The Federal Reserve noted that "economic activity has continued to expand at a moderate pace" and that "some further improvement" has been seen in the labor market. Yet monthly bond purchases were kept unchanged at $85 billion.
Last year, the Federal Reserve launched QE3, which buys agency mortgage-backed securities at a pace of $40 billion per month. The program is open-ended and will continue for as long as the Federal Reserve thinks is necessary. Three months later, the central bank announced it would also purchase $45 billion of long-term Treasury securities. It also decided to keep interest rates at historic lows as long as the unemployment rate remains above 6.5 percent.
One of the most notable changes in the FOMC statement involved the real estate market. The Federal Reserve said, "Available data suggest that household spending and business fixed investment advanced, while the recovery in the housing sector slowed somewhat in recent months." In comparison, the FOMC statement from September said the "housing sector has been strengthening."
Although the housing market remains well above its worst level seen during the Great Depression, several reports confirm a slowdown. The National Association of Realtors recently announced that total existing-home sales fell 1.9 percent in September, worse than expected by economists.
The pending-home sales index, a forward-looking indicator based on contract signings, plunged 5.6 percent in September to reach its worst level since December. In fact, the index has now declined for four consecutive months. For the first time in 29 months, pending home sales are below their year-ago level. "This tells us to expect lower home sales for the fourth quarter, with a flat trend going into 2014," said Lawrence Yun, the National Association of Realtors's chief economist. "Even so, ongoing inventory shortages will continue to lift home prices, though at a slower single-digit growth rate next year."
Yun believes affordability is one of the biggest problems facing the housing market, and the political circus in Washington only adds to the issue. "Declining housing affordability conditions are likely responsible for the bulk of reduced contract activity," he said. "In addition, government and contract workers were on the sidelines with growing insecurity over lawmakers' inability to agree on a budget. A broader hit on consumer confidence from general uncertainty also curbs major expenditures such as home purchases."
In August, home prices across the nation increased on a year-over-year basis for the 18th consecutive month. According to CoreLogic, a property information and analytics provider, home prices jumped 12.4 percent in August from a year earlier. In fact, home prices have logged double-digit gains for seven straight months. Home prices are still 17.1 percent below their bubble peak in April 2006, but every state posted an annual increase.
Don't Miss: Is Debt Destroying Your Retirement Savings?
Follow Eric on Twitter @Mr_Eric_WSCS