FedEx Earnings Cheat Sheet: Fifth Consecutive Quarter of Double-Digit Revenue Growth
S&P 500 (NYSE:SPY) component FedEx Corporation (NYSE:FDX) reported its results for the fourth quarter. FedEx Corporation provides various transportation, e-commerce and business services.
Don't Miss: Wall St. Cheat Sheet's newest Feature Trades of the Month!
FedEx Earnings Cheat Sheet for the Fourth Quarter
Results: Net income for the air delivery and freight services company rose to $558 million ($1.75/share) vs. $419 million ($1.33/share) in the same quarter a year earlier. A rise of 33.2% from the year earlier quarter.
Revenue: Rose 11.9% to $10.55 billion YoY.
Actual vs. Wall St. Expectations: FDX beat the mean analyst estimate of $1.72/share. Estimates ranged from $1.54 per share to $1.85 per share. Analysts were expecting revenue of $10.41 billion.
Quoting Management: "During fiscal 2011, an improved economy, strong customer demand and decisive actions to grow our business led to increased volumes and yields across all transportation segments," said Frederick W. Smith, FedEx Corp. chairman, president and chief executive officer. "With this positive momentum, moderate economic growth and subsiding cost headwinds, FedEx is well positioned to deliver strong earnings growth in fiscal 2012."
Key Stats:
The company has enjoyed double-digit year-over-year revenue growth for the past five quarters. Over that span, the company has averaged growth of 14.6%, with the biggest boost coming in the fourth quarter of the last fiscal year when revenue rose 20.1% from the year earlier quarter.
The company beat estimates last quarter after falling short in the previous two quarters. In the third quarter, it missed the mark by one cent, and in the second quarter, it fell short by 15 cents.
Competitors to Watch: United Parcel Service, Inc. (NYSE:UPS), Air Transport Services Group Inc. (NASDAQ:ATSG), Air T, Inc. (NASDAQ:AIRT), OfficeMax (NYSE:OMX), Staples (NASDAQ:SPLS) and Office Depot (NYSE:ODP).
Stock Performance: Shares of FDX are up over 2% this morning.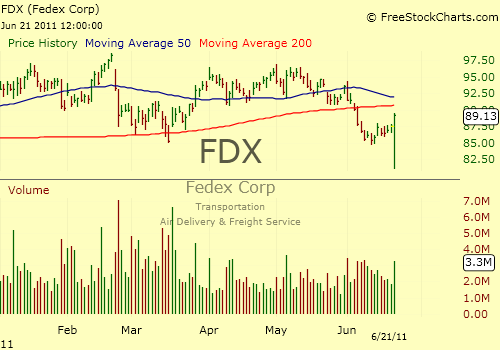 Don't Miss Wall St. Cheat Sheet's newest Feature Trades of the Month!
(Source: Xignite Financials)