Fed's Beige Book: Another Month of Less-Than-Stellar Growth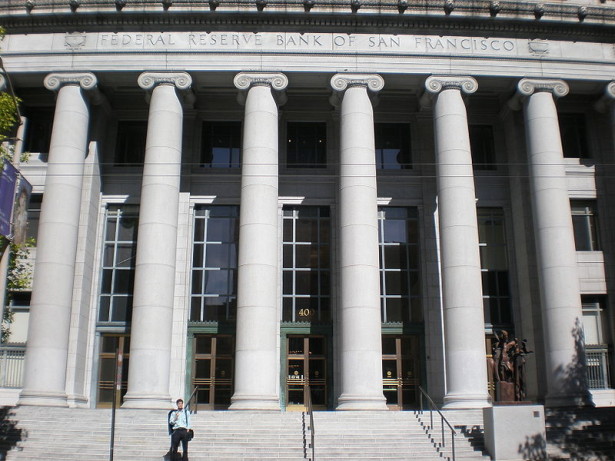 "Reports from the 12 Federal Reserve districts indicate that overall economic activity continued to increase at a modest to moderate pace since the previous survey," stated the Federal Reserve's July Beige Book report, which is based on data collected on or before July 8. June's Beige Book reported used the same exact phrase to describe growth.
The central bank's monthly "Summary of Commentary on Current Economic Conditions," based on anecdotal reports from the 12 regional banks, showed that the upswing in pace of economic expansion was fueled by growth in many industries. Most districts noted that consumer spending and auto sales increased during recent weeks, while manufacturing increased in most regions, partly due to strong demand for residential construction.
Banking conditions also generally improved and "residential real estate and construction activity increased at a moderate to strong pace in all reporting districts," according to the report.
Most districts reported stable or increasing new orders, shipments, and production. Reports from contacts in the Cleveland, Chicago, and St. Louis districts indicated that the manufacturing sector had grown moderately. The Minneapolis district said that more manufacturing firms increased activity than in the previous report; Boston, New York, Richmond, Atlanta, and San Francisco districts experienced modest growth; and manufacturing firms in the Philadelphia and Dallas districts reported slight improvements. Only Kansas City experienced a slight contraction.
This data serve as supplementary evidence for comments made by Federal Reserve Bank of New York President William C. Dudley on July 2. He said in remarks prepared for a speech given before the Business Council of Stamford, Connecticut, that he believes a "strong case can be made that the pace of growth will pick up notably in 2014."
Fed Chairman Ben Bernanke's vision of the current economic condition in the United States may best be described as cautiously optimistic. "The economic recovery has continued at a moderate pace in recent quarters," he said at his testimony before the House of Representatives on Wednesday, "despite the strong headwinds created by federal fiscal policy." This sort of fuzzy rhetoric — where pro-growth statements are qualified with a "despite" or "but" clause — are liberally sprinkled throughout Fed commentary on the economy.
In his commentary, the chairman noted that the central bank's policymakers will analyze a wide swath of indicators before determining when to begin scaling back the Federal Reserve's monthly $85-billion asset purchases. This edition of the Fed's Beige Book was drawn up in preparation for the next meeting of the Federal Open Market Committee, scheduled for July 30-31, and it will be an important piece of data used to inform policymakers' decisions on future stimulus.
Bernanke's testimony served as a platform from which to articulate the Fed's monetary policy, which is aimed at servicing the Fed's dual mandate of maximum employment and price stability. The review highlighted how far the United States must travel to meet those two targets.
In its Mid-Session Review of the economy, the White House Office of Management and Budget provided updated projections of the unemployment rate by White House economists as well as the Congressional Budget Office, and the U.S. is looking at 6.5 percent headline unemployment by 2015.
Projections collected by Federal Reserve Board members and Federal Reserve Bank presidents in June put unemployment between 6.5 and 6.8 percent in 2014 and between 5.8 and 6.2 percent in 2015. "The unemployment rate stood at 7.6 percent in June, about a half percentage point lower than in the months before the Federal Open Market Committee initiated its current asset purchase program in September," Bernanke said in his testimony.
Even though nonfarm roll employment has increased by an average of about 200,000 jobs per month so far this year, Bernanke said, "The jobs situation is far from satisfactory, as the unemployment rate remains well above its longer-run normal level, and rates of underemployment and long-term unemployment are still much too high." Employers added 195,000 jobs in May and June, and 199,000 in April, according to data collected by the Department of Labor, but the unemployment rate has been 7.6 percent in three of the past four months.
The Beige Book's commentary on the job market contained a similar assessment of the labor market. "Hiring held steady or increased at a measured pace in most districts, with some contacts noting reluctance to hire permanent or full-time workers," the report said. 
Follow Meghan on Twitter @MFoley_WSCS
Don't Miss: Is the Housing Recovery Theme Getting Demolished?