Fed's Beige Book Shows Economic Optimism Despite Shutdown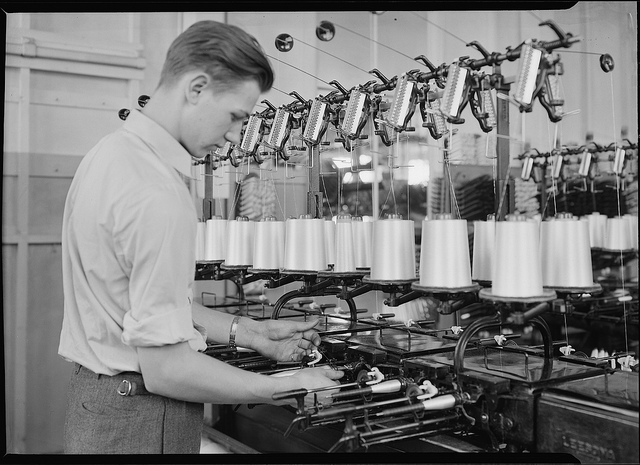 Once again, "modest to moderate" are the two adjectives employed by policymakers at the United States Federal Reserve to describe the recovery of the American economy thus far. Gathering anecdotal information from the 12 regional banks, the Fed's survey of regional economic conditions from September through October 7 showed that most districts reported steady growth rates, consistent with levels experienced over the summer, but four districts — Philadelphia, Richmond, Chicago, and Kansas City — said that growth had slowed. Contacts in all districts "generally remained cautiously optimistic in their outlook for future economic activity," and while indicators were still somewhat mixed, the trend was clear: conditions are improving, or at least not becoming worse.
But still, contacts in many districts noted "an increase in uncertainty due largely to the federal government shutdown and debt ceiling debate."
Staffers from each of the 12 regional banks compile anecdotes, rather than pure data, by conducting interviews with businesses, economists, and other financial experts via phone or through questionnaires or email, with the intention of detecting important trends in consumer spending, manufacturing, real estate, and business investment. Each survey focuses in particular on the region's major industries; the Atlanta Fed highlights tourism, the Dallas Fed the energy industry, and the Kansas City Fed farming. Recently, all regions have placed additional attention on consumer spending.
The Federal Reserve's beige book survey is prepared eight times a year in advance of the central bank's regular policy meetings. Thanks to the partial government shutdown, which has been in place since October 1, nearly all government economic reports have been delayed and policy makers will have significantly fewer data points on which to analyze the state of the economy. The Departments of Labor and Commerce have postponed publishing data regarding employment, inflation from consumer-price data, and retail sales. At its last policy meeting, Fed policy makers determined that the economy was still in need of assistance, deciding to maintain its $85 million-a-month bond-buy stimulus program, which was designed to lower borrowing costs and encourage businesses to hire and spend.
Many districts indicated that consumer spending had increased over the past several months, with pent-up demand for big-ticket items such as homes and automobiles helping to strengthen the housing market and giving a small boost to monthly retail sales figures. However, even while the Fed's economic snapshot showed that outlays on houses and cars boosted spending numbers from early September through early October, other data suggest that growth has been more modest in other retail segments. As long as the labor market improves only modestly and income growth remains relatively stagnant, as it has since the end of the recession in June 2009, many American consumers will continue to be in a difficult position.Consumer spending accounts for approximately 70 percent of gross domestic product, and because government and business spending have remained weak, the economy is depending even more on household spending to fuel growth.
Still, retailers were "generally optimistic about the holiday shopping season."
As for hiring, the Fed's survey reported that job growth "remained modest in September," with several regions citing uncertainty about the federal budget and the implementation of the Affordable Care Act's online marketplaces as the reason for lower job creation. The regional banks in Cleveland and Dallas said that retail hiring was mostly limited to new stores, while job growth slowed in the New York region and manufacturers in Chicago cut back overtime. Reports from these regions are consistent with the National Employment Report released by private payroll processor ADP, which is important in the absence of the Bureau of Labor Statistics's September employment report.
According to ADP, employers added 166,000 jobs to their payrolls, a sign to Moody's Analytics chief economist Mark Zandi that "the job market appears to have softened in recent months" and that "fiscal austerity has begun to take a toll on job creation." Still, "while job growth has slowed, there remains a general resilience in the market," he added. The general tenor of ADP's jobs report was that the labor market struggled to make progress in the past month. Even though September's increase in payroll additions was greater than the previous month's gain, job growth is weakening. ADP's data shows that over the past three months, the economy has added an average of just 162,000 private jobs per month, which compares to 220,000 at the beginning of the year.
In general, manufacturing activity generally increased modestly, but Cleveland, St. Louis, and Minneapolis reported faster growth and demand for steel increased in Cleveland, Chicago, St. Louis, and San Francisco. Furthermore, sales of construction materials was strong in Philadelphia, Cleveland, and San Francisco. Comparatively, the pace of manufacturing activity slowed in New York, Richmond, and Chicago, and the sale of construction materials dropped in Dallas and Chicago. Similarly, housing construction strengthened; increasing robustly in Minneapolis and Dallas, but modestly in Richmond and Philadelphia.
Anticipating coming increases in interest rates, homes increased in districts like Boston, and new mortgage business grew in Philadelphia, Richmond, and Dallas.
Follow Meghan on Twitter @MFoley_WSCS
Don't Miss: Housing Market Feels Impact of Government Shutdown.