Feds Investigate Caterpillar Unit for Long Beach Offshore Dumping
Caterpillar Inc. (NYSE:CAT): Current price $82.81
According to the Wall Street Journal, a Caterpillar division is being looked at by federal investigators to decide if it has dumped train parts into the ocean offshore California, as part of a scam to charge customers for parts they do not require. Investigators are checking whether Progress Rail was dumping brake parts along with other items into the water near the Port of Long Beach to hide evidence that it was charging owners of rail equipment for replacing parts that were still in good condition, the paper reported, citing knowledgeable persons.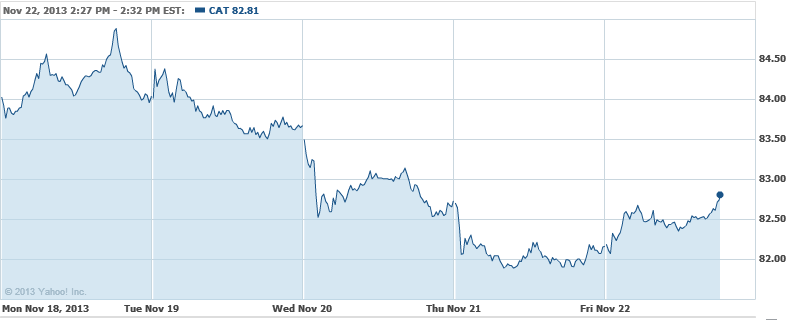 The Boeing Co. (NYSE:BA): Current price $135.87
After South Korea's military leaders said that they want stealth capabilities and acknowledged that only Lockheed Martin's F-35 satisfies that  requirement, Boeing seems to be out of the competition to supply fighter jets to that country. The military chiefs have recommended buying 40 stealth jets for around $7.8 billion, with a contract award expected 2014, and delivery beginning in 2018. A follow-up order for 20 additional planes is open to other models. However, with delivery for that number projected for 2023, a contract for a more advanced jet than the F-15 is anticipated.

3M Co. (NYSE:MMM): Current price $130.81
3M's Command Brand, already known for its damage-free indoor organizing and  decorating products, is debuting a new line of Command Outdoor Products to help homeowners decorating the outside of their homes this year. The line includes clear window hooks, decorative hooks and light clips that are equipped with new water- and UV-resistant adhesive strips, especially designed to withstand weather conditions including rain, snow and  extreme temperatures (-20 degrees Fahrenheit to 125 degrees Fahrenheit). The hooks and clips adhere strongly to outdoor windows, siding, gutters, doors, and other smooth surfaces.

Don't Miss: 4 Things to Do If Your 401k Fees are Out of Control.