Fed's Lacker: Time to End Housing Stimulus
Richmond Federal Reserve President Jeffery Lacker called Wednesday for the U.S. Central Bank to end its role in stimulating the housing market, pointing to modest recovery in the sector.
Worrying about the inflationary effects of extended Fed activity in housing, Lacker suggested that the central bank end its policy of purchasing mortgage backed securities, something he has consistently opposed. As he sees it, the unconventional policies of the Fed could drive up prices as the housing market picks up, stating "Inflation doesn't take care of itself — it requires some attention from a central bank. The inflation outlook looks good now, but I think there are risks to the inflation outlook a couple of years ahead of us."
Mr. Lacker's comments came on the same day as a National Association of Home Builders and a Wells Fargo (NYSE:WFC) report found that home builder sentiment is steadily improving. Their survey results increased from 41 in April to 44, with numbers above 50 representing a more positive than negative disposition among builders. This number topped analyst expectations, and puts the results up 16 percent from last year, although they has not broken the 50 threshold since April 2006.
NAHB Chairman Rick Judson released a statement in which he said, "Builders are noting an increased sense of urgency among potential buyers as a result of thinning inventories of homes for sale, continuing affordable mortgage rates, and strengthening local economies." In particular, single-family housing starts continue to show gradual growth, prompting an increase in the overall index.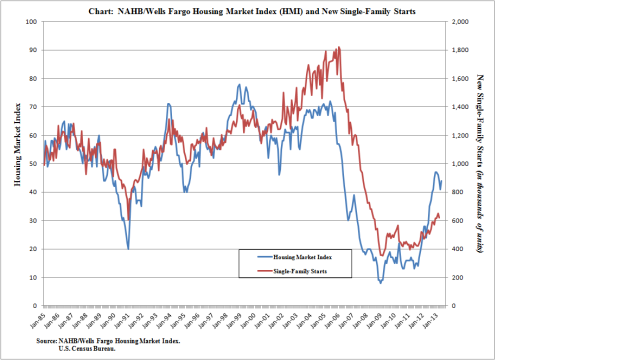 Other signs reaffirm Mr. Lacker's confidence in housing's ability to stand on its own two feet as well. SEC filings show that billionaire investor John Paulson, who manages his investment company Paulson & Co., expanded his stake greatly in mortgage providers, acquiring millions of shares in various insurers. The hedge-fund manager famously bet against the housing market previously, but has now changed direction as he injects a large amount of capital into the space. His outlook on housing has paid off thus far as well, with his fund outperforming most, seeing gains of 14 percent — nearly triple the industry average.
Data released today also show signs of optimism for the struggling housing market, as applications for building permits rose over 14 percent from last month, despite a slowdown in ground breaking during April. Future construction looks healthy, though, as the  1.017 new building permits issued represent the most in circulation since June 2008.
Lacker did concede that markets won't take well to decreased Fed stimulus, but did not think that should be a deterrent to action. Discussing the effects on markets, Lacker stated, "I don't see any effective constraints on our ability to reduce the pace of asset purchases without undue market reaction."
Don't Miss: Can Obamacare Evade the IRS Shadow?