Financial Crisis Déjà Vu: Big Banks May Be Issuing Bad Loans Again
The 2007 financial crisis was largely a result of subprime mortgage lending. Broadly speaking, this is the practice of extending credit to those who are not necessarily credit worthy. For example, granting a $500,000 mortgage to someone with, say, $40,000 annual income and half that in credit card debt. The theory behind this practice — or, at least, the brittle justification — was that home values would always increase, effectively guaranteeing that mortgage lenders could recoup losses in the event of default.
But as we all know now, and as we should have known then, housing values don't always go up. The market crashed in the late 2000s and triggered an avalanche of delinquency and default that nearly buried the economy. After years of triage, surgery, and rehabilitation, the economy is arguably back on track and ready to be taken off its medication — the monetary stimulus provided by the Federal Reserve via quantitative easing and a zero-bound target federal funds rate.
In the wake of the crisis, regulators and policymakers mandated that banks tighten credit controls and beef up underwriting standards in an effort to prevent the kind of reckless subprime lending that fueled the crisis. These new rules and regulations, however, made borrowing difficult for those with subpar credit. Combined with low interest rates, an underwhelming recovery, and relatively weak demand for credit, banks used to taking big profits issuing debt have found themselves increasingly desperate to lend.
According to the Spring 2014 Semiannual Risk Perspective report published Office of the Comptroller of the Currency, banks with assets of more than $10 billion reported median year-over-year loan growth of just over 4 percent, while banks with between $1 billion and $10 billion in asserts reported growth of about 6 percent. Banks with total assets of less than $1 billion reported weaker growth of just 2 percent on the year. All of these growth rates were below their long-term averages.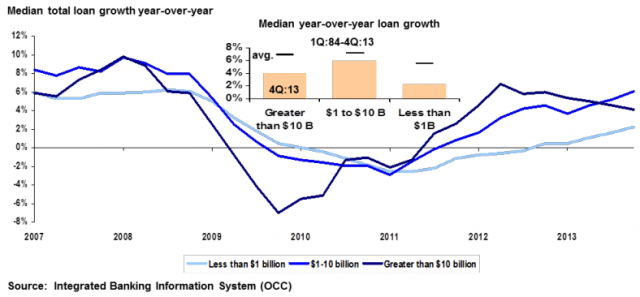 Limited demand for loans has put banks on their wits ends and the result could be riskier lending. The data suggest that this is already beginning to happen, as leveraged loans have considerably grown in size over the last year. The average total debt-to-EBITDA (earnings before interest, taxes, depreciation, and amortization) multiple for leveraged loans issued in 2013 rose to 4.7 times, a level last exceeded in 2007.
"The combination of higher leverage, lower yields, tighter credit spreads, and weaker covenant protection provides ample evidence of increasing credit risk in the leveraged loan market" the report pointed out.
Another segment that has seen demand grow is, high yield covenant-lite loans. High yield generally implies higher risk, and covenant-lite means relaxed restrictions on collateral and repayment terms. In other words, it screams of the kind of risky lending that was popular in the run up to the financial crisis. New-issue covenant-lite loans totaled $258 billion in 2013, almost touching the total cumulative amount issued from 1997 to 2012. "The quality of underwriting in the syndicated leveraged loan market remains a supervisory concern," the OCC said.
The report mentions increasing risk appetite, intense competition, and market liquidity as main factors that are forcing banks to ease lending standards. The loan portfolios where banks have done so are indirect consumer, credit cards, and large corporate, international, and leveraged loans.
The OCC has also sounded out a warning in lending to the auto market. The average loan-to-value rate for both new and used vehicles is above 100 percent. The loan-to-value ratio is the ratio of the amount borrowed to the appraised value of the vehicle. Higher LTV indicates higher risk and therefore such loans tend to be more expensive.
Expectations that the benchmark interest rate is going to remain zero bound for some more time is fuelling future risks from a sudden spike in long-term interest rates, which is most likely to happen when the Federal Reserve begins to tighten its monetary policy. When yields rise, prices will fall, forcing investors to exit at a loss.
"Banks that extend asset maturities to pick up yield, especially if relying on the stability of non-maturity deposit funding in a rising rate environment, could face significant earnings pressure and potential capital erosion depending on the severity and timing of interest rate moves," OCC said.
On the operational side, banks continue to tackle increasingly sophisticated cyber attacks. A prolonged assault on the customers' online accounts between 2012-13, called DDOS or distributed decline of services, blew holes in the security systems of over a dozen banks, including Wells Fargo & Co. (NYSE:WFC), Citigroup (NYSE:C), JPMorgan Chase & Co. (NYSE:JPM), and Bank of America Corp (NYSE:BAC).
According to a Securities Industry and Financial Markets Association (SIFMA) document released last week, the next wave of attacks in the near-medium term may be more disruptive and could result in account balances and books and records being converted to zeros while the process of recovering the lost information would be difficult and slow.
"The number, nature, and complexity of both foreign and domestic third-party relationships continue to expand, resulting in increased system and process interconnectedness and additional vulnerability to cyber-threats," OCC report said.
Lastly, OCC has flagged alert on the risk of ballooning legal expenses on the part of banks, as most of them are still paying penalties for financial misconduct (selling faulty mortgage securities and money laundering) post-2007. Securities and Exchange Commission estimates as of 2013, 12 largest bank holding companies (BHC) anticipate maximum potential legal exposure of approximately $23 billion in excess of reserves, having risen from $14 billion in 2011 and $20 billion in 2012.
More From Wall St. Cheat Sheet: