Finisar Corp Earnings Cheat Sheet: Another Solid Sales Quarter, Shares Sell Off
Finisar Corporation (NASDAQ:FNSR) reported higher profit for the fourth quarter as revenue showed growth. Finisar Corporation is a provider of optical subsystems and components that connect short-distance local area networks, or LANs, and storage area networks, or SANs, and longer distance metropolitan area networks, or MANs and wide area networks, or WANs.
Don't Miss: Wall St. Cheat Sheet's newest Feature Trades of the Month!
Finisar Earnings Cheat Sheet for the Fourth Quarter
Results: Net income for Finisar Corporation rose to $16.4 million (17 cents/share) vs. $14.2 million (22 cents/share) in the same quarter a year earlier. A rise of 15.4% from the year earlier quarter.
Revenue: Rose 25.7% to $236.9 million YoY.
Actual vs. Wall St. Expectations: FNSR reported adjusted net income of of 33 cents/share. By that measure, the company fell in line with the mean estimate of 33 cents/share. Estimates ranged from 32 cents per share to 36 cents per share. It fell short of the average revenue estimate of $242.9 million.
Quoting Management: "During the quarter we continued to invest in our new product development programs, including tunable XFP, to generate a significant pipeline of new products. We expect this pipeline will enable us to win new opportunities with both LAN/SAN and telecom customers and expand our market share. We are currently in qualification with fifteen customers for our tunable XFP transceiver and expect production of this product to start to ramp during the first fiscal quarter of 2012. In addition, on May 18, we successfully closed our previously announced cash tender offer for the shares of Ignis ASA. We now hold approximately 81% of the outstanding shares of Ignis. We believe Ignis' whole-owned subsidiary, Syntune, will provide us a secure supply of superior tunable lasers used in producing our tunable XFP transceiver," said Eitan Gertel, Finisar's Chief Executive Officer.
Key Stats:
The company has enjoyed double-digit year-over-year revenue growth for the past five quarters. Over that span, the company has averaged growth of 54.3%, with the biggest boost coming in the second quarter when revenue rose 65.3% from the year earlier quarter.
Competitors to Watch: JDS Uniphase Corporation (NASDAQ:JDSU), Oclaro, Inc. (NASDAQ:OCLR), Oplink Communications, Inc (NASDAQ:OPLK), EMCORE Corporation (NASDAQ:EMKR), Opnext, Inc. (NASDAQ:OPXT), Alliance Fiber Optic Products, Inc. (NASDAQ:AFOP), Cisco Systems, Inc. (NASDAQ:CSCO), and Arris Group, Inc. (NASDAQ:ARRS).
Stock Performance: Shares of FNSR are down over 16% after hours.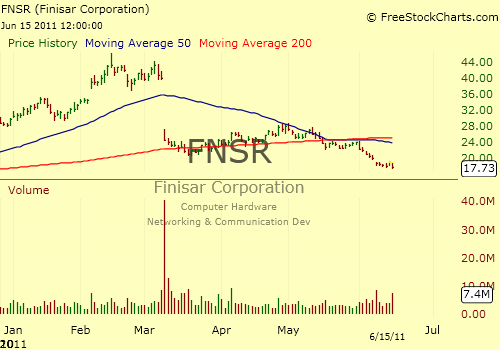 Don't Miss Wall St. Cheat Sheet's newest Feature Trades of the Month!
(Source: Xignite Financials)