FirstEnergy Corp Earnings: Stock Up Huge
S&P 500 (NYSE:SPY) component FirstEnergy Corp (NYSE:FE) reported its results for the first quarter. FirstEnergy Corp. is a diversified energy company that operates through its subsidiaries: OE, CEI, TE, Penn, ATSI, JCP&L, Met-Ed and Penelec.
Don't Miss: Wall St. Cheat Sheet's newest Feature Trades of the Month!
FirstEnergy Earnings Cheat Sheet for the First Quarter
Results: Net income for FirstEnergy Corp fell to $50 million (15 cents/share) vs. $155 million (51 cents/share) a year earlier. A decline of 67.7% from the year earlier quarter.
Revenue: Rose 8.4% to $3.58 billion YoY.
Actual vs. Wall St. Expectations: The company reported adjusted net income of 69 cents per share. By that measure, the company beat the mean estimate of 74 cents per share.
Quoting Management: "With the February closing of our merger with Allegheny Energy behind us, we are already making significant progress in realizing its benefits, and we now expect the merger to be accretive to earnings in 2011," said FirstEnergy President and Chief Executive Officer Anthony J. Alexander. "Our first quarter results are in line with our expectations for the year. We are also pleased to introduce non-GAAP earnings guidance for 2011 through 2013, which reflect anticipated benefits from the merger, the successful execution of our competitive retail strategy, and steady improvement in distribution deliveries as the economy improves," Alexander said.
Key Stats:
Net income has dropped 23.9% year over year on average across the last five quarters. Performance was hurt by a 67.7% decline in the most recent quarter from the year earlier quarter.
Competitors to Watch: American Electric Power Co., Inc. (NYSE:AEP), Consolidated Edison, Inc. (NYSE:ED), CH Energy Group, Inc. (NYSE:CHG), Public Service Enterprise Group Inc. (NYSE:PEG), NextEra Energy, Inc. (NYSE:NEE), PPL Corporation (NYSE:PPL), The Southern Company (NYSE:SO), Pepco Holdings, Inc. (NYSE:POM), Duke Energy Corporation (NYSE:DUK), and Exelon Corporation (NYSE:EXC)
Stock Performance: Shares of FE are up over 5.75% after hours.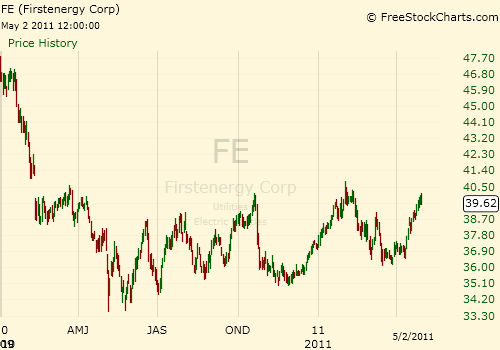 Don't Miss Wall St. Cheat Sheet's newest Feature Trades of the Month!