Fiscal Cliff Worries Couldn't Push Down This Economic Indicator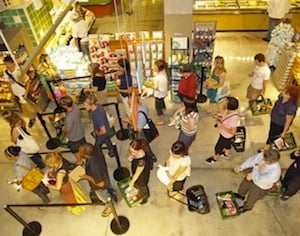 While concerns over the fiscal cliff — the tax increases and government spending cuts scheduled to begin on January 1 — have not abated, the cost of living for the month of November fell more than analysts expected.
As the Labor Department reported on Friday, the consumer-price index decreased by 0.3 percent last month. This drop was greater than the 0.2 percent drop estimated by economists surveyed by Bloomberg, and it was the first decrease in the index since May. Comparatively, in the month of October, a 0.1 percent gain was recorded.
Catalysts are critical to discovering winning stocks. Check out our newest CHEAT SHEET stock picks now.
However, the core index does not include volatile food and energy costs.
The consumer-price index decrease is a sign that inflation in the United States remains in check. With the threat of inflation low, the U.S. Federal Reserve announced this week that the institution would keep its policies unchanged, and expand asset purchases as a means to lower unemployment and stimulate economic growth.
"Longer-term inflation expectations continue to be well anchored," said Federal Reserve Chairman Ben Bernanke at a press conference on Wednesday.
According to a report by Bloomberg, several factors contributed to the lower cost of living. Despite a 0.1 percent gain in medical care costs, clothing and used-car prices fell last month. Furthermore, cheaper gasoline prices have helped keep inflation in check. Over the course of the month, the cost of gasoline dropped by 7.4 percent, the largest decrease since December 2008.
For the 12-month period ended in November, consumer prices rose 1.8 percent, according to the Labor Department's report.
Don't Miss: Santa Bernanke Delivers Early Christmas.