Flowers In Talks with Hostess, Roche Dumps Illumina: Mergers and Acquisitions Recap
Flowers Foods (NYSE:FLO): Current price $25.12
Knowledgeable sources say that Flowers Foods and Grupo Bimbo are in talks regarding the purchase of the bread unit of Hostess Brands, as the latter divests assets and liquidates. The sources also said that Hostess could specify these potential bidders as early as the coming week, in an imminent bankruptcy-court auction. The bread brands include Nature's Pride, the iconic Wonder Bread, Home Pride, Merita and Butternut. Hostess is reportedly still deciding how to split up assets and package them for buyers.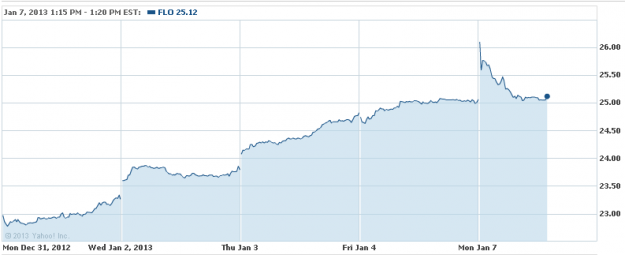 Sprint Nextel Corporation (NYSE:S): Current price $5.91
The wireless service provider Clearwire Corporation (NASDAQ:CLWR) is slated to be acquired by its majority owner, Sprint, but not if a large shareholder group of Clearwire's has anything to say about the matter. Not only has Crest Financial filed a class action lawsuit on behalf of Clearwire investors, but it will also request that the United States  Federal Communications Commission block Sprint's intent to sell 70 percent of itself to Softbank Corp for $20 billion, which would greatly complicate Sprint's plans for Clearwire. Crest owns roughly 8 percent of the latter and has characterized Sprint's offer of $2.97 per share for the approximate 50 percent of Clearwire it does not currently own, saying that it "grossly undervalues Clearwire."

Are these stocks a buy or Are these stocks a buy or a sell? Let us help you decide.  Check out our Wall St. Cheat Sheet Stock Picker Newsletter now>>
Rovi Corporation (NASDAQ:ROVI): Current price $16.63
The company said late in the week that it intends to divest its Rovi Entertainment Store division as part of its strategy to concentrate on growth opportunities linked to its core enabling tech and services. To this effect, Rovi  has retained GCA Savvian Advisors as its financial adviser in the pursuance of a suitor for a potential sale.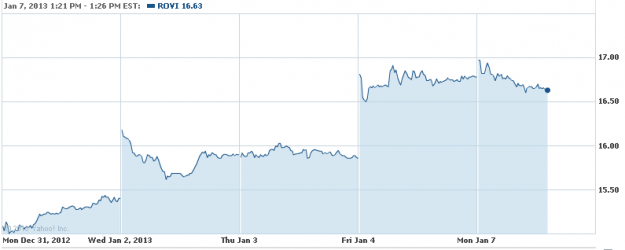 Illumina (NASDAQ:ILMN): Current price $50.51
According to Chairman Franz Humer of the Swiss pharmaceutical group Roche, his firm is no longer mulling an offer for the American gene-sequencing company Illumina. Quoted in SonntagsZeitung on Sunday, Humer said that "Illumina is definitely off the table. They were not willing to abandon the totally unrealistic price they were asking for. Roche does not do acquisitions that don't create value." The firm had offered $6.8 billion for Illumina, but shareholders of the latter blocked an attempt by the would-be buyer to obtain seats on its board, and Roche then walked away from the situation. However, the same newspaper reported in December that Roche might extend a fresh offer.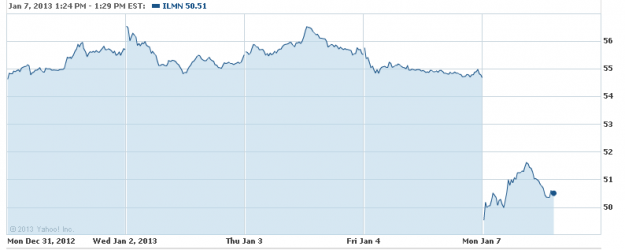 Don't Miss: What's Next for Illumina After Roche Deal Falls Through?