FMC Corporation Earnings: Five Quarters of Expanding Margins
S&P 500 (NYSE:SPY) component FMC Corporation (NYSE:FMC) reported its results for the first quarter. FMC Corp., a chemical manufacturing company, offers innovative solutions, applications and products to agricultural, consumer and industrial markets around the world. .
Don't Miss: Wall St. Cheat Sheet's newest Feature Trades of the Month!
FMC Earnings Cheat Sheet for the First Quarter
Results: Net income for FMC Corporation rose to $94 million ($1.30/share) vs. $77.4 million ($1.06/share) in the same quarter a year earlier. A rise of 21.4% from the year earlier quarter.
Revenue: Rose 5.1% to $795 million YoY.
Actual vs. Wall St. Expectations: FMC reported adjusted net income of of $1.49/share. By that measure, the company beat the mean estimate of $1.44/share. Estimates ranged from $1.42 per share to $1.45 per share.
Quoting Management: Pierre Brondeau, FMC president, chief executive officer and chairman, said, "The year is off to a good start as each of our business segments delivered strong profit gains. Agricultural Products' earnings were driven by broad-based sales growth in North America, Latin America and Asia. Specialty Chemicals' performance was led by robust earnings gains in lithium. Industrial Chemicals' earnings increased significantly as a result of higher selling prices across the segment. Our first quarter performance once again reflected the benefits we derive from serving diverse end markets with low correlation to economic cycles; our global presence that is biased toward rapidly-developing economies; our diversified raw material structure and sourcing; and our minimal dependence on petrochemical feedstocks."
Key Stats:
Last quarter marked the fifth consecutive quarter of gross margins expanding as the company's gross margin expanded 0.9 percentage point to 36.2% from the year earlier quarter. Over that span, margins have grown on average 1.5 percentage points per quarter on a year-over-year basis.
Over the last five quarters, revenue has increased 9.2% on average year over year. The biggest increase came in the fourth quarter of the last fiscal year, when revenue rose 12.2% from the year earlier quarter.
Competitors to Watch: E.I. du Pont de Nemours & Co. (NYSE:DD), The Dow Chemical Company (NYSE:DOW), Eastman Chemical Company (NYSE:EMN), Akzo Nobel N.V. (AKZOY), Rockwood Holdings, Inc. (NYSE:ROC), PPG Industries, Inc. (NYSE:PPG), Ashland Inc. (NYSE:ASH), Monsanto Company (NYSE:MON), Sociedad Quimica y Minera (NYSE:SQM), and Minerals Technologies Inc (NYSE:MTX)
Stock Performance: Shares of FMC are up 1.70 percent in after hours trading.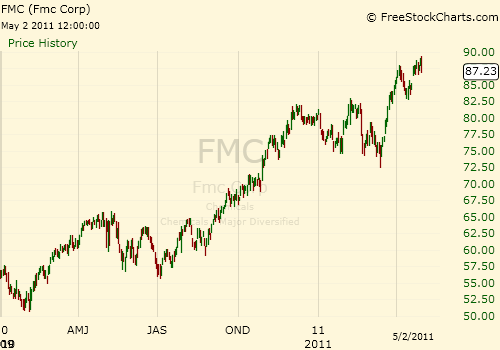 Don't Miss Wall St. Cheat Sheet's newest Feature Trades of the Month!