Focus Media Holding Limited Earnings Cheat Sheet: A Swing to a Profit
Focus Media Holding Limited (NASDAQ:FMCN) reported its results for the first quarter. Focus Media Holding, Ltd. is engaged in selling out-of home television advertising time slots on its network of flat-panel television advertising displays located in high traffic areas such as commercial locations and in-store network.
Don't Miss: Wall St. Cheat Sheet's newest Feature Trades of the Month!
Focus Media Earnings Cheat Sheet for the First Quarter
Results: Swung to a profit of $20.5 million (14 cents/diluted share) in the quarter. Focus Media Holding Limited had a net loss of $954,000 or a loss one cent per share in the year earlier quarter.
Revenue: Rose 51% to $146.6 million YoY.
Actual vs. Wall St. Expectations: FMCN reported adjusted net income of of 30 cents/share. By that measure, the company beat the mean estimate of 27 cents/share. Estimates ranged from 25 cents per share to 30 cents per share.
Quoting Management: Jason Jiang, Chairman and Chief Executive Officer of Focus Media said, "We are encouraged by the strong start for the year, and are confident of reaching our business objectives for the rest of the year. Nevertheless, there remains a bit of uncertainty over the PRC macro-economic environment as a result of the continued economic tightening measures. We will continue to work diligently to navigate through the challenges ahead to execute our business plan. We plan to launch Focus Media's next generation of screens in seven cities in the second half of this year. We believe these next generation screens will equip Focus Media with capabilities to provide interactive, measurable, location based search (LBS) services to advertisers, which we believe is of great importance for Focus Media's next era of growth. We also plan to embark upon a small minority investment in a company that will work hand in hand with Focus Media to provide online and mobile services support to enhance Focus Media's LBS capability."
Competitors to Watch: VisionChina Media Inc (NASDAQ:VISN), AirMedia Group Inc. (NASDAQ:AMCN), Lamar Advertising Company (NASDAQ:LAMR), China Mass Media Intl Adv Corp. (NYSE:CMM), Interpublic Group of Companies, Inc. (NYSE:IPG), Omnicom Group Inc. (NYSE:OMC), Charm Communications Inc (NASDAQ:CHRM), National CineMedia, Inc. (NASDAQ:NCMI), MDCA Partners (NASDAQ:MDCA), McGraw-Hill (NYSE:MHP), News Corp (NASDAQ:NWSA),  Gannett (NYSE:GCI), Google (NASDAQ:GOOG), Microsoft (NASDAQ:MSFT), Time Warner (NYSE:TWX), Disney (NYSE:DIS), CBS (NYSE:CBS), Discovery (NASDAQ:DISCA), Lamar Advertising (NASDAQ:LAMR),
Stock Performance: Shares of FMCN are up 1.9% this morning from the previous close of $31.60.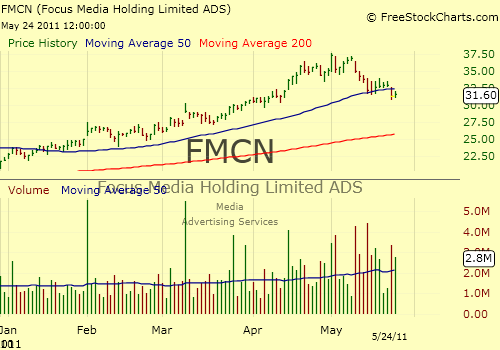 Don't Miss Wall St. Cheat Sheet's newest Feature Trades of the Month!
(Sources: YahooFinance, Xignite Financials)