Food Stamp Malfunction Leads to Wal-Mart Shopping Free-For-All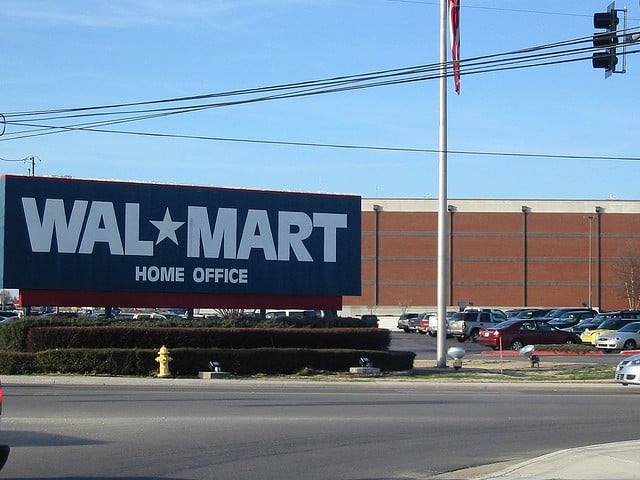 Employees at two Wal-Mart (NYSE:WMT) locations in Louisiana had their hands full Saturday night when they continued selling to shoppers with Electronic Benefits Transfer cards, despite technical malfunctions that kept the spending limits on those debit cards from appearing. The cards are issued to recipients of government food stamps, but they usually have tight spending restrictions, and without them, customers in Louisiana were all too eager to take adavantage of the temporary dysfunction while they could.
According to Time, the glitch on the EBT cards was caused by a power outage during a routine maintenance test, and the spending limits were disabled for about two hours from 7:00 p.m. to 9:00 p.m. Saturday. Two hours was two hours too long for the affected Wal-Mart stores in Springhill and Mansfield, LA, though, and both locations were forced to call in police to control order and fight the crowds that cleared the shelves that night upon realizing that the spending limits on their EBT cards were temporarily out-of-commission.
According to KATC, the Springhill police chief calls the mixup "worse than any black Friday" they had ever seen, and also highlights the case of one woman, who rang up a bill of $700 when she only had $.49 on her EBT card.
Wal-Mart is still navigating the repercussions of its bizarre shopping free-for-all over the weekend, and it is registering losses in both stores as its headquarters instructed the employees to keep selling to EBT card holders despite the glitch. A Wal-Mart spokesman told KSLA that night that the company continued selling to customers "so that they could get food for their families," but now both stores are in charge of the mess that was left behind as one Wal-Mart customer explains, "Just about everything is gone. I've never seen it in that condition."
No arrests were made at the locations, but the frenzy left many feeling disturbed, and the system is reported to still not function entirely properly in some other areas also served by Xerox (NYSE:XRX).  The Lousiana police report that they will be taking any allegations of potential fraud seriously, but for now, all Wal-Mart can do is prepare in advance should the technical glitch present itself again in the future.
Don't Miss: 7 MLB Teams That Hand Out Fat Paychecks.