For Immigrants Signing Up for Obamacare, Barriers Are High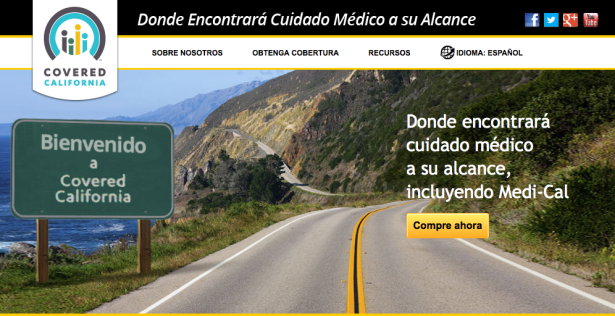 "I think the need for information is pretty apolitical," Lisa Zamosky, a WebMD health policy expert, told USA Today, regarding the need for Americans to understand the particulars of the Affordable Care Act's insurance exchanges that launched this week. It is a need that the Obama Administration understands, but has had problems delivering.
Ever since the President Barack Obama signed the Affordable Care Act into law in March 2010, the complexities of the health care reform have drawn criticism, and even supporters have winced at the length of the 906 page document because the complexities have caused extreme implementation difficulties and made the dissemination of misinformation easier. But, as polls and man-on-the-street interviews show, even on the eve of implementation, misinformation was rampant. However, for those who do not speak English well, the complexities of the reform, which are already shrouded in political doublespeak, only become more difficult to overcome.
The experience of Sandra Pena, an outreach worker in Bell Gardens, California shows the extent of the lack of awareness among immigrant populations. On the morning of October 1, the first day of enrollment for the health care reform's cornerstone provision, Pena, with Spanish-language brochures in hand, questioned patients gathered at a crowded health clinic about their understanding of the Affordable Care Act. "Have you heard of the program Obamacare?" She asked, as Kaiser Health News reported. A few of the gathered patients — most of whom were Latino, and many of whom were first-generation immigrants — nodded, but others "stared blankly."
"There are tons of people who don't know what's going on today," Valerie Lopez, an outreach worker at the center, told the publication. Pena's mission was to explain several main points: that legal U.S. residents and citizens are now able to sign up for health coverage that will begin on January 1; depending on income, they will qualify for free or low-cost insurance through Medicaid, referred to Medi-Cal in the state of California — or for subsidized insurance through Covered California, the state's online health insurance marketplace; and, those individuals who can afford to purchase insurance but do not buy a policy will face a fine in 2014.
In return, the patients asked many questions. "Do I have to pay a fine if I am not working? Do I still qualify for Medi-Cal if I own a home? Are there people to help me fill out the application?" Pena did not know the answer to every question, but she told Kaiser News that people, who are still being trained, will soon be available to help with enrollment. On Tuesday, no one was at the Bell Gardens health center to help with enrollment, she said.
Currently, the United States is home to around 21 million immigrants who are not citizens. Many — both those who came to the United States legally and those who do not have permission to live in this country — work in low-wage jobs that do not provide health care benefits. That means that non-citizens are three times more likely to be uninsured than citizens and account for about 20 percent of all 48 million uninsured people in the U.S.
With the implementation of the Affordable Care Act, many of the 10 million immigrants who live in the United States are expected to gain health insurance. These individuals are also essential to the success of Obamacare. To function as intended, the marketplaces need a broad, healthy risk pool to keep staggering rate increases from occurring. The premiums of healthy, cheap-to-insure people cover the big bills for the relatively small number of sick people.
So, if the exchanges do not enroll enough young, healthy people, insurers will have to raise premiums across the board. As a population, immigrants tend to be younger than the general population, their enrollment will keep the risk pool balanced, which is why the Obama administration is depending on outreach efforts to enroll Latinos and other immigrants.
Excluding problems with language, educating immigrants about the health care exchanges can be difficult, said Reshma Shamasunder, executive director of the California Immigrant Policy Center. As she told Kaiser, many immigrants live in mixed-status families, where years of deportations have made trust of the federal government low. "It is going to be important to have trusted messengers in their communities," she said.
Clinic administrators hope that outreach workers will able to be liaisons to those communities and overcome that distrust. "Once patients establish that rapport and that trust, they are going to look for us for information," Frances Bernabe, director of clinic operations for the Wesley Health Centers, told the publication.
But even if outreach is successful, millions could remain uninsured. A study conducted by the University of California in Berkeley found that as many as 4 million Californians could still have no health insurance in 2019, of which nearly three-quarters will be U.S. citizens or legal residents.
Follow Meghan on Twitter @MFoley_WSCS
Don't Miss: The Irony of Obamacare: Republicans Thought of It First.