For Struggling Europe, Being 'Less Bad' Is Good News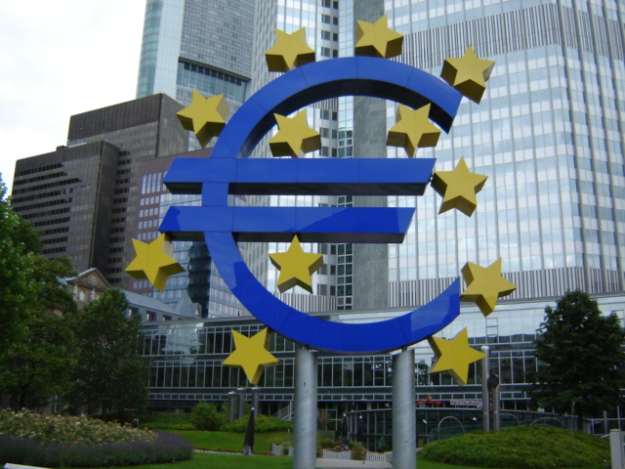 Mario Draghi is now in the precarious situation of providing markets with enough information to forwardly guide them, in line with his new propensity for the 'forward guidance' already tried elsewhere, while not sending them spiraling off with overly optimistic data and appeasement, or crashing if he paints a grimmer picture of the economy. The European Central Bank will announce its most recent policy decision tomorrow, and Draghi's press conference is scheduled for 8:30 a.m. Eastern Time.
Figuring out how to walk that line will be tough as the central banker is lording over a continent which is desperately seeking good news, growth, and employment; and while some policy options remain at his disposal, they are growing fewer in number, and their effectiveness may not be optimal if economic expansion doesn't take hold independently of his actions. Specifically, further rate cuts are still a tool for Draghi to try to convince banks to lend, or even charging them to deposit money with the central bank, but lending is already weak throughout the bloc—banks in Spain, and other periphery countries are hard pressed to come up with places and reasons to dole out cash when demand is soft and capital requirements are taking hold.
While some data this week has pointed to bright spots in the European economy, namely a German manufacturing uptick and increased economic confidence, substantial barriers to tangible growth for the unemployed remain, namely a Chinese slowdown which could hamper exports, and political strife in Greece, Spain, and Portugal.
Draghi is unlikely to sound overly optimistic though, as he already told markets previously that interest rates would remain low for an extended period of time.
The attitude among investors looking for a reason to be positive is captured in a research report by Russell Investments recently, where the firm said that conditions were "less bad." The idea of less bad seems to be enough to convince market makers and capital movers to get excited about investing, although unemployment remains stubbornly high at 12.1 percent, with rates over 20 percent in Spain and Greece.
This sort of optimism prompted French President Francois Hollande to tell the public there that a recovery was imminent, something which has seen the country's media and politicians alike chastise him. France also struggles with record unemployment, and Hollande's attitude is perhaps a sign of desperation among many prominent figures for the economy to right ship, despite reality being a road still very rough.
There is other good news for Europe though; negotiations on the largest free trade agreement in history are progressing with the United States—an agreement which could be worth billions of dollars to both economies and free up businesses to more easily interact across the ocean. The finer points of the agreement, such as unified financial regulations, continue to be a sticking point between the two global powers as talks progress. The United States is hesitant to integrate its banks into a singular regulatory scheme which is seen as surprisingly less strict on the other side of the ocean, especially in the wake of the immensely complicated Dodd-Frank bill.
While the investors may be right in that the situation in Europe is currently 'less bad' than it was previously, conditions there remain extraordinarily tough, and unemployment and lending weakness continue to prevent a return to sustained prosperity across the continent.
Still though, for Europe, any good news is welcome, and the ECB's policy decision tomorrow will probably reflect an economy that is 'less bad'—a tempered response to a fragile economy.
Don't Miss: Treasury to Congress: You Have Until Labor Day.