Ford and GM Cancel Summer Vacation and 3 More Hot Stocks
Ford (NYSE:F): Ford, along with its Detroit brethren General Motors (NYSE:GM) and Chrysler, will be foregoing the usual two-week facility shutdown this summer, to address strong demand for vehicles. Additionally, the companies are adding more shifts to their assembly plants, which are already running near or at capacity. Ford intends to push an extra 200,000 vehicles to dealerships this year.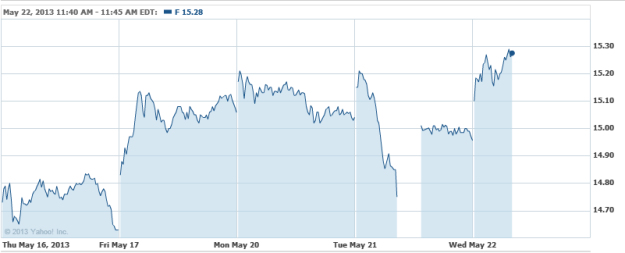 Lowe's (NYSE:LOW): Despite a somewhat lackluster earnings report, shares of Lowe's are pushing higher in trading on Wednesday, likely fueled by late-quarter strength that should carry on through into Q2. Exterior categories (siding, paint, and so on) were impacted by cool temperatures and "greater precipitation" which "delayed [the] spring selling season" — an excuse resonating among several industries.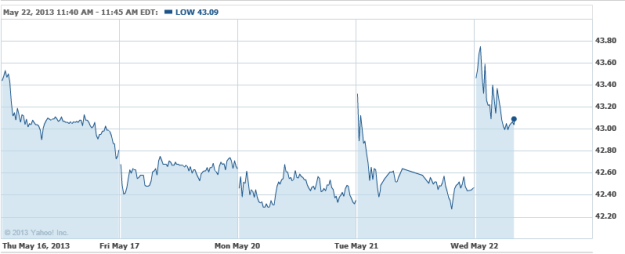 Chevron Corp. (NYSE:CVX): An executive working for the company in Indonesia has been arrested — again — as a part of an ongoing corruption probe by Indonesian officials, and despite a court order six months ago clearing him of any wrongdoing. A spokesman for the attorney general's office says he is accused of abusing his authority, breaking the law, and causing state losses.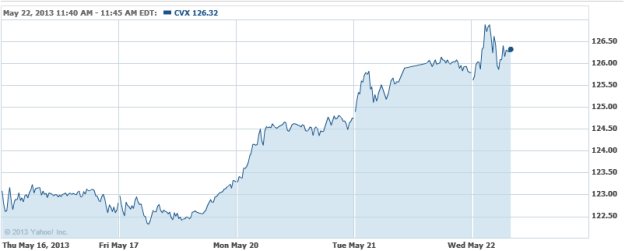 Cree Inc. (NASDAQ:CREE): Shares are ripping after a bullish upgrade to Buy from Sterne Agee, which said that previous estimate cuts were too aggressive. "We overestimated the potential impact from Phillips flexing its muscles at lighting agents," the firm said. LED lighting is expected to account for 5.5 percent of the lighting market this year. The firm also raised its price target to $72.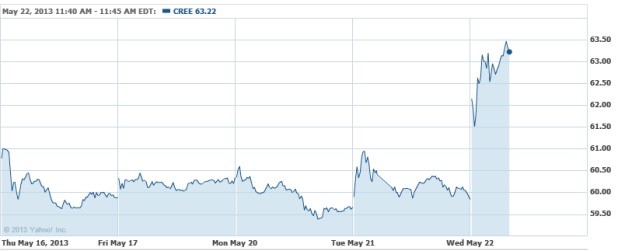 Don't Miss: Is GM Readying a Natural Gas-Driven Impala?