Ford Brings CNG to the F-150, Toyota Aims for 8 Digits, and 3 More Hot Stocks
Ford Motor Co. (NYSE:F): Ford is planning to sell a modified variant of its F-150 pickup that runs on natural gas. Though the addition of the CNG components can be quite costly, the truck is likely aimed at the fleet market, where companies will be able to make up the cost differences at the pump — CNG runs an average of $2.11 per gallon equivalent. The truck can reportedly travel 750 miles on a tank, and average about 23 miles per gallon.

Toyota Motor Corp. (NYSE:TM): Nikkei is reporting that Toyota looks like it's on track to sell 10 million vehicles this year, a feat that has so far gone unclaimed by any manufacturer. A more thorough production plan is expected from the company later today.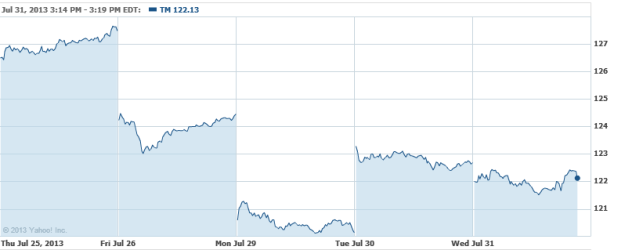 BHP Billiton (NYSE:BHP): Though analysts wager that the expected potash price war will shut down BHP's plans for a $14 billion foray into the potash market, Robb Stewart from the Wall Street Journal says "Maybe not." BHP has never wanted to join a cartel, Stewart says. Instead, the company tends to prefer open market pricing, which was instrumental in driving for iron ore. If BHP had obtained Potash (NYSE:POT) in 2010, the miner was planning to market its product outside of the Canpotex cartel.

MasterCard Incorporated (NYSE:MA): MasterCard shares are sliding almost 4 percent, although the company reported results that beat expectations. The firm's stock is reacting to the news that a U.S. judge ruled that the Federal Reserve doesn't have the authority to set a cap on debit-card transaction fees, saying, "the Board has clearly disregarded Congress's statutory intent by inappropriately inflating all debit card transaction fees."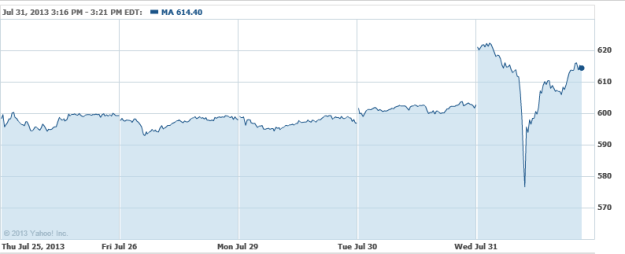 Coach, Inc. (NYSE:COH): CEO Lew Frankfort has hinted that the company isn't intentionally low-balling its guidance, but at the same time, it isn't willing to forecast growth in new categories until the results are in, Frankfort said during a conference call. "Until we actually experience traction within our stores, we're not going to forecast it," he stated.

Don't Miss: Unlike American Rivals, Honda's Quarterly Results Fail to Impress.