Ford CEO Accuses Japan Of Depreciating the Yen and 2 Other Hot Stocks to Watch
Ford Motor Company (NYSE:F): Current price $14.95
On Thursday, Ford Chief Executive Alan Mulally accused Japan of depreciating its currency so as to aid its local exporters at the expense of United States auto maker margins. In recent months, the yen has fallen against other major currencies, because Japan's central bank has undertaken an 'easy money' policy, which in effect makes products priced in yen cheaper elsewhere. In an interview with Bloomberg TV, Mulally remarked that, "With the currency manipulation, we just have to get back to the place where the currencies are set by the markets and the free trade agreements really are free trade agreements." The CEO also said that Japan is for the most part shut off to American auto makers, with 90 percent of car sales in the market coming from Japanese auto makers, said Bloomberg.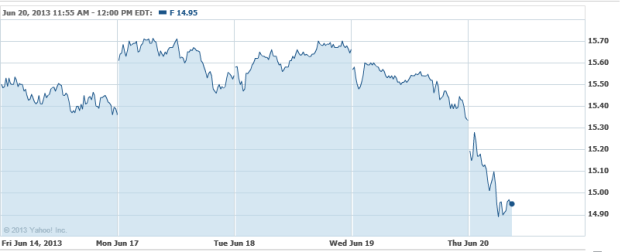 Cisco Systems (NASDAQ:CSCO): Current price $24.44
The networking major Cisco Systems says that it will purchase Composite Software for $180 million. The company specializes in data virtualization software and services, and is based in San Mateo. Composite's software accesses data stored in several places on a network and then has it appear to users that it is all stored in one place. Upon completion of the transaction, Composite will join the Cisco services group and report to Senior Vice President Mala Anand of Cisco's Services Platforms Group.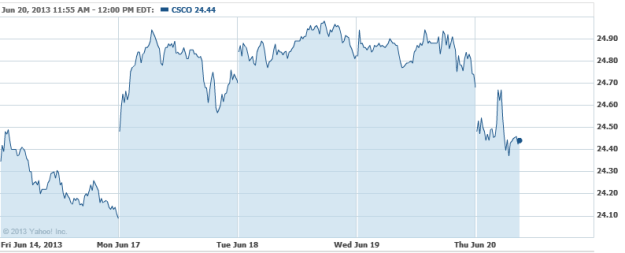 Kinross Gold Corporation (NYSE:KGC): Current price $5.04
Gold miner shares took a beating Thursday morning in New York, while the plunging gold prices are still making the economics of gold mining projects seem quite dubious: mining companies are caught in a squeeze, as their costs are escalating while the prices they finally receive keep going down. Big companies were hit hard, with Barrick Gold's stock falling by over 6 percent, representing a 50-percent plunge thus far for 2013. Kinross Gold shares are down by almost 9 percent in late morning trading, and Goldcorp stock also fell by over 6 percent.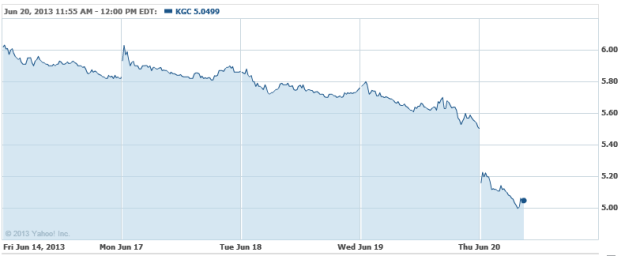 Don't Miss: Is It Time to Get Behind the Wheel and Buy Ford?