Ford Chairman Says Mulally Will Stay on and 2 More Heavily Traded Stocks to Follow
Ford Motor Co. (NYSE:F): Current price $17.14
During an interview Tuesday on Bloomberg Television, Executive Chairman Bill Ford highlighted the abilities of his company's next generation of executives while saying again that the automaker's plan for Alan Mulally to remain chief executive. Ford said in regards to Mulally, that "The plan is he's going to stick around. I'm happy he's sticking around. But we also feel really good about where we are in terms of succession." Ford is wants to put the kibosh on speculation of an imminent exit by Mulally, subsequent to AllThingsD and Reuters naming him as a candidate to become the next chief executive of Microsoft Corp.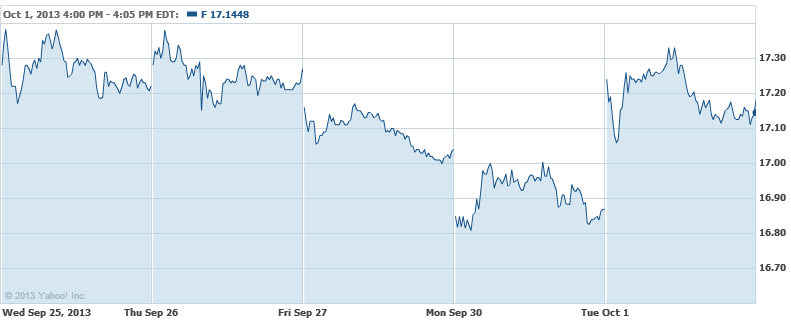 Microsoft Corp. (NASDAQ:MSFT): Current price $33.36
At a Microsoft Store event in Seattle Monday night, Corporate Vice President Panos Panay gave the clearest indication thus far that the Surface line might soon be expanding. According to GeekWire, Panay avoided being "too" specific, but he did indicate that Microsoft has "a lot of great things that we are thinking about and working on, and there are multiple aspect ratios and sizes and awesome things to come from Surface." Beyond that, he went on to confirm that an LTE version of the Surface 2, not the Surface Pro 2, would be going to AT&T in the United States and Vodafone in Europe early in 2014, something he first mentioned on Reddit last week, even though he again refrained from allowing any more specific intro details.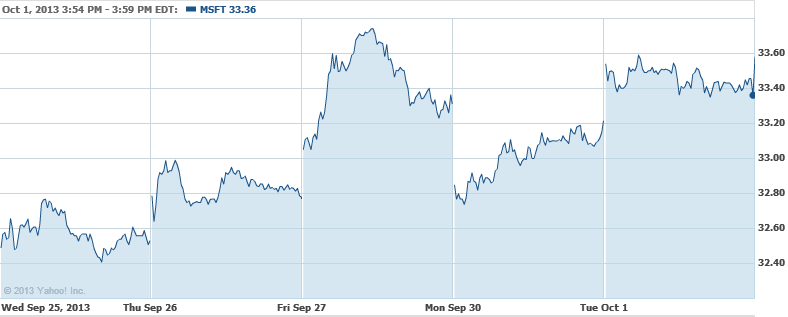 Merck & Co. (NYSE:MRK): Current price $48.67
Adopting a concept from competitor drug manufacturers that have sharply cut research spending to boost earnings, Merck said that it will reduce annual operating costs by $2.5 billion and eliminate 8,500 positions or over 10 percent of its world workforce. The firm's shares rose by 2.3 percent as it said that it aims to narrow its concentration to products which have the best chance of winning regulatory approval and attaining substantial sales. It will abandon research products that show less likelihood of success, plans to bail on some drugs already in late-stage trials, and will license a few products to other firms.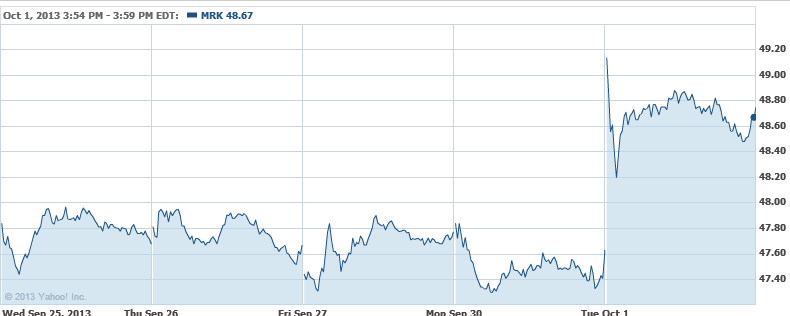 Don't Miss: Ford's Fusion Is Set to Break This Sales Record.