Ford Dealers Stiffed By Execs on Peek At 2014 Launches and 2 More Heavily Traded Stocks to Follow
Ford Motor Co. (NYSE:F): Current price $17.52
In what must have been a very frustrating experience, thousands of dealers arrived at Las Vegas this week, set for a big meeting with Ford executives, hoping above all for a sneak peek at the two most important vehicles expected to launch in 2014, the redesigned Mustang muscle car and the F-150 pickup truck. Subsequent to signing confidentiality agreements and entering the ballroom at Caesar's Palace, dealers were told not a thing. Rather, Ford showed them a 15-passenger version of its upcoming Transit van and pledged a freshening in 2014 on the Ford Focus.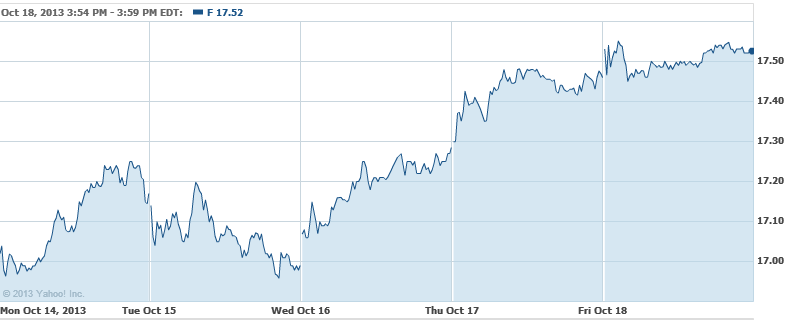 General Electric Co. (NYSE:GE): Current price $25.58
On Friday, GE reported a record backlog of orders that it said positioned it in good stead for 2014, raising shares and overshadowing a slide in quarterly profit and revenue. Chairman and Chief Executive Jeff Immelt voiced an optimistic tone to end a week of tumult concerning the debt ceiling debate in Washington, describing the company's results as "very strong in an improving global business environment." GE's backlog for everything ranging from jet engines to locomotives to turbines soared by almost 13 percent compared year-over-year.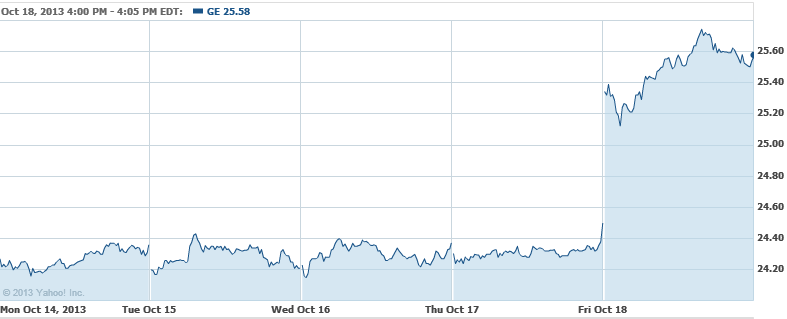 The Interpublic Group of Companies, Inc. (NYSE:IPG): Current price $16.04
Shares are down by more than 5 percent Friday, after the Group posted a 34-percent plunge in third-quarter net income, attributed to a one-time charge of $45.2 million, which was an expense originating with the early redemption of senior notes due 2017. Interpublic, which is parent of a portfolio of advertising and marketing agencies like Universal McCann and Weber Shandwick, reported net income of $45.4 million, or 11 cents per share. Subtracting out the one-time charge, earnings came to 17 cents a share. Revenue grew by 2 percent to $1.7 billion, and in the United States by itself was up 4 percent to $976.6 million.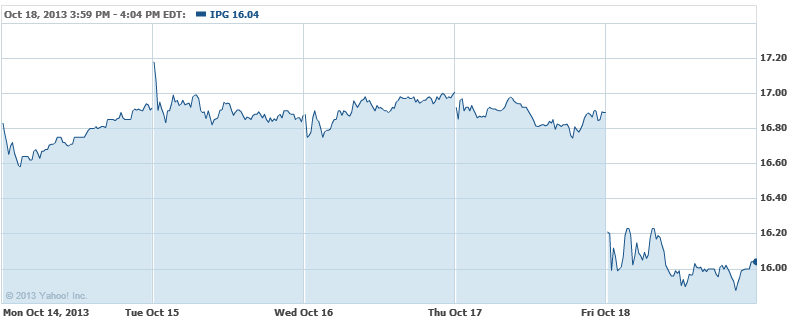 Don't Miss: Ford to Pull Back the Wraps on the New Mustang for a Lucky Few.