Ford Eyes Big Fusion Mark, Rio Tinto's Tough Sell, and 3 More Hot Stocks
Ford Motor Co. (NYSE:F): Ford's redesigned Fusion has been a powerful part of the automaker's lineup, and it could surpass the 300,000 unit level for sales as the midsize sedan segment remains a driving force with consumers. What makes the Fusion so notable is that the car has managed to take market share without the broad use of discounts or incentives. Further, executives with Ford say the demand has been favoring the higher-end trim levels.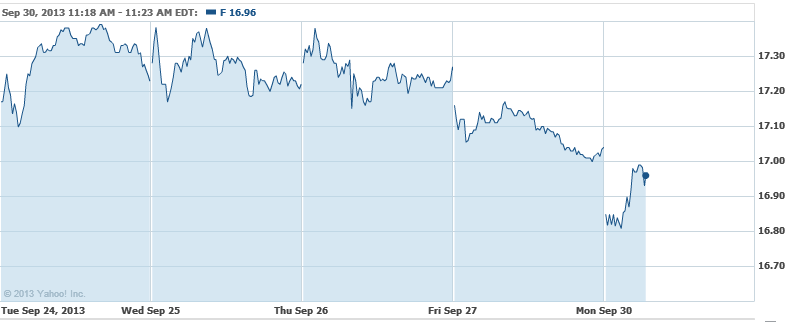 Rio Tinto (NYSE:RIO): Three suitors have stepped up for a shot at Rio Tinto's majority stake in the Clermont mine in Australia's Queensland state, though all three bids fell short of expectations, The Wall Street Journal reports. Though Rio is working hard to spin off its non-core assets, coal mines have been a hard sell, as Chinese demand has been slowing recently.


J.C. Penney Co. Inc. (NYSE:JCP): Though J.C. Penney shares have somewhat recovered from a pre-market tank, the stock is still trading lower as former bull Maxim puts a Hold rating on the shares while reversing its position on the retailer. "We see nothing that would indicate that the overall environment should improve going forward," the firm says of J.C. Penney.
Philip Morris International (NYSE:PM): Philip Morris has announced an agreement to acquire 49 percent of Arab Investors-TA for $625 million, which will give the tobacco company a 25 percent interest in a joint venture that distributes Marlboro and L&M cigarette brands in Algeria.
Harvest Natural Resources (NYSE:HNR): Harvest Natural shares are up nearly 6 percent on news that it is in exclusive talks to sell its stake in in the Dussafu Marine Permit in Gabon to energy trader Vitol for $137 million.

Don't Miss: 6 Automobiles That Define Poor Value.