Ford Gets Traction In China and 2 Other Hot Stocks to Watch
Ford Motor Company (NYSE:F): Current price $15.39
The historic automaker said that its auto sales in China jumped by a whopping 45 percent in May, as its vehicles continue to resonate in the world's biggest auto market. Record May sales for Ford and its joint venture partners came to 70,540 units. Sales numbers of the Focus, the number-one-selling Ford vehicle in China, soared by 17 percent to 27,345. As for SUVs, the new Ford EcoSport sold 6,231 units in its second month on the market, and sales of the new Ford Kuga came to 7,892.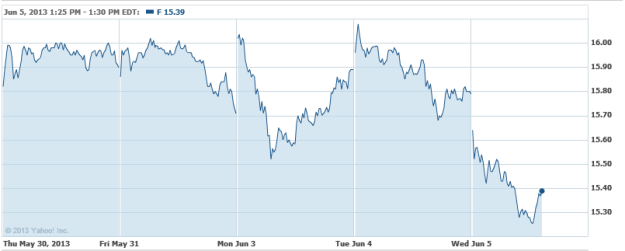 Intel Corporation (NASDAQ:INTC): Current price $24.96
The polar explorer Ben Saunders, together with his partner Tarka L'Herpiniere, will attempt to be the first persons to complete the 1800-mile return journey from the coast of Antarctica to the South Pole, which British Royal Navy Captain Robert Scott attempted from 1910 to 1912. On the journey, the expedition will employ Ultrabook devices powered by new fourth-generation Intel Core processor tech for unprecedented levels of communication, and record crucial data from the Polar region, in temperatures of -40C/F. Saunders will be able to update Twitter, Facebook, and blog content during this time, as well as upload video content for the dedicated Scott Expedition YouTube channel.

Nokia Corporation (NYSE:NOK): Current price $3.44
The research firm Kantar World released a report on Monday that found that Verizon Communications' (NYSE:VZ) growth in the first quarter was driven by robust sales of phones running the Windows Phone software system. The report read in part that "For Verizon, Windows share rose from 0.2 percent in the three months ending April 2012 to 6.8 percent by the period ending April 2013," and that the majority of the Windows phones sold were Nokia's Lumia devices.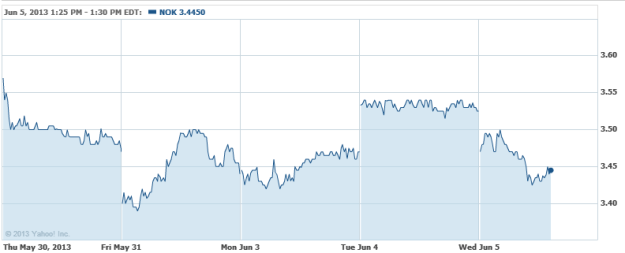 Don't Miss: White House Supports Boeing-Brazil Defense Deal.