Ford Halts Romanian Production, Nomura's Solid Quarter, and 3 More Hot Stocks
Ford Motor Co. (NYSE:F): Ford has halted the production at its facility in Romania due to weak European demand. When in full swing, the plant churns out roughly 370 cars per day and 1,000 engines for several models. The halt will last for 13 days in November; almost all of Ford Romania's 4,000 employees will be affected by it and will receive 80 percent of their wages during the stoppage.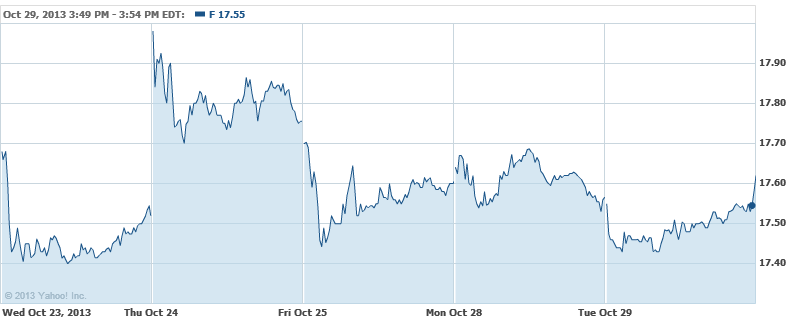 Nomura Holdings Inc. (NYSE:NMR): Nomura reported that it pulled in profits of 38.1 billion yen ($391 million) for the second quarter, against the 2.8 billion yen a year earlier and a consensus of 42 billion yen. Revenue fell to 428.4 billion yen, or 7.1 percent; brokerage commissions gained 46 percent, trading profit grew 24 percent, and investment banking fees rose 35 percent for Nomura.

Morgan Stanley (NYSE:MS): In efforts to help increase its return on equity, Morgan Stanley is reportedly in discussions with the U.S. government to allow the bank to repurchase more stock in 2014; any program would add to the $500 million that the firm was granted permission for earlier this year. Investors are pushing for the bank to buy back more stock; despite Morgan Stanley's 52 percent stock run this year, the single-digit returns are not impressing many.

Infosys Ltd. (NASDAQ:INFY): The federal government is gearing up to slap a fine of $35 million, the largest immigration penalty ever, on Infosys for illegally placing workers on visitor visas rather than work visas at major corporate clients. The Department of Homeland Security and the State Department found that Infosys — an Indian company — used inexpensive, easy-to-obtain B-1 visas meant to cover short business visits instead of harder-to-get H-1B work visas to bring an unknown number of its employees for long-term stays, sources told The Wall Street Journal.

PetroChina Co. (NYSE:PTR): PetroChina is reportedly near a deal to purchase assets in Peru belonging to PetroBras (NYSE:PBR) for more than $2 billion, Bloomberg reports. PetroBras entered the Peruvian market in 1996 and produces about 16,000 barrels per day in the region, where it holds stakes in exploration assets in the Maranon, Huallaga, and Madre de Dios basins.

Don't Miss: Did Apple Commit a Design Faux Pas in iOS 7?