Ford Hits 100-Week High on Booming Auto Market and 2 Other Hot Stocks to Watch
Ford Motor Co. (NYSE:F): Current price $16.80
The iconic automaker and its youngest peer, Tesla Motors Inc. (NASDAQ:TSLA), both touched 100-week highs on Tuesday, only the latest in a series of indications that the domestic auto industry is booming. Ford closed at $16.84, lifted in part by a auto market set for its best year since 2007. Only four years after government buyouts, investors are coming back to the U.S. automotive industry. The S&P 500 Automobiles & Components Index — which includes General Motors Co. (NYSE:GM), Ford, and parts-makers — is the best performer among 24 industries in the S&P 500 in the past three months, rising by 21 percent.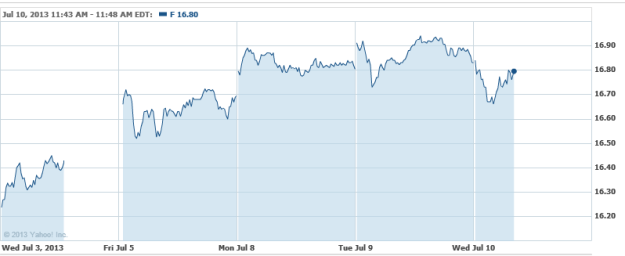 Sprint Nextel Corp. (NYSE:S): Current price $7.12
On Wednesday, International Business Machines Corp. (NYSE:IBM) announced that Sprint is employing IBM MobileFirst solutions to deliver a responsive connected car experience. By means of new improvements to the Sprint Velocity connected vehicle platform, cars can be seamlessly joined with drivers' mobile devices and customized to their specific in-vehicle infotainment, security, and convenience feature preferences. Sprint becomes the first mobile carrier to use IBM MessageSight, which is an appliance created to permit organizations to manage and communicate with the billions of mobile devices and sensors found in systems like automobiles, traffic management, smart buildings, and household appliances.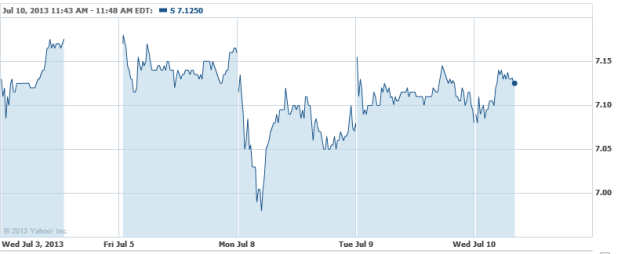 BlackBerry (NASDAQ:BBRY): Current price $9.27
Following BlackBerry's shareholder meeting on Tuesday, the company revealed that it quietly sacked its chief of U.S. sales, Richard Piasentin, in June. The executive's forced exit was confirmed by The Wall Street Journal. Perhaps precipitating the move is the fact that BlackBerry's newest phone, the BlackBerry Z10, has not sold well domestically since its release in the spring; analysts were forecasting weak demand for the phone from the start.