Ford Joins Greenhouse Gas Program in India and 2 Other Hot Stocks to Watch
Ford Motor Co. (NYSE: F): Current price $16.99
On Monday, the historic automaker will take a major step towards stabilizing worldwide carbon dioxide emissions, as Ford becomes the first auto company to join a voluntary greenhouse gas reporting program recently set up in India. Ford already participates in similar programs in the United States, Mexico, China, Canada, Brazil, and Argentina. Voluntary reporting allows for transparency about the firm's CO2 emissions, and emphasizes the importance of the matter to Ford, which has a target of lowering CO2 emissions at its global facilities — including two in Chennai, India — by 30 percent per vehicle by 2025.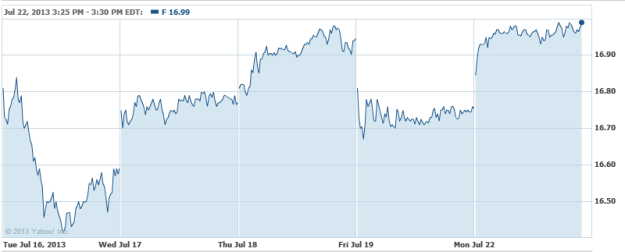 Dell Inc. (NASDAQ:DELL): Current price $13.04
Michael Dell and his financial backer are said to be in disagreement regarding the payout of breakup fees if the buyout should fail. For its part, Silver Lake thinks that it's entitled to a $450 million fee if the alternative proposal from Carl Icahn succeeds within one year, according to an inside source. However, Mr. Dell and his board say that Silver Lake would get expenses reimbursed, but nothing else, said two other sources.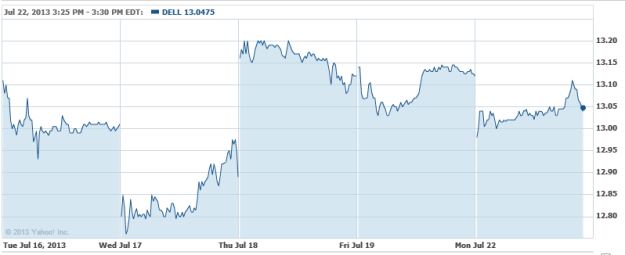 Halliburton Co. (NYSE:HAL): Current price $45.01
On Monday, Halliburton announced that the firm's second quarter income from continuing operations came to $677 million, or 73 cents per diluted share, compared to the $624 million, or 67 cents per diluted share posted in the first quarter. The figures exclude a after-tax $637 million charge, or $0.68 per diluted share, to increase a reserve connected with the Macondo litigation. Halliburton's second quarter total revenue was a company record of $7.3 billion, compared to $7.0 billion in the prior quarter.