Ford Launches Expansion in China and 2 More Heavily Traded Stocks to Follow
Ford Motor Company (NYSE:F): Current price $
The iconic automaker has launched an aggressive expansion plan in China which includes intentions to triple its lineup there by debuting 15 models, among which include the Kuga small sport utility vehicle by 2015. Presently, Ford markets seven models in the country, and in order to develop the new models the company will establish new factories, raising its capital spending to roughly $6 billion yearly by mid-decade from $4.3 billion in 2011. So as to keep up with the expansion, Ford will double its workforce by hiring 1,200 employees by 2015.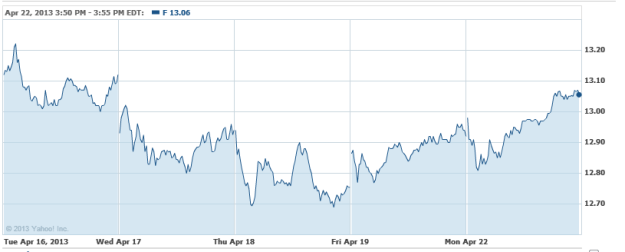 Caterpillar (NYSE:CAT): Current price $
The firm reported disappointing quarterly results and lowered its 2013 profit forecast on Monday, reflecting a slide in demand for heavy equipment from its mining customers. However, Caterpillar said that it believed the drop in spending by miners was temporary, and that its shares moved up on news that it was reviving a repurchase program and would buy $1 billion in stock in 2013. The company is encouraged by "stability" in the construction markets in both the United States and China, according to Chairman and Chief Executive Doug Oberhelman, who commented to conference call analysts that "we have been watching relatively flat but slightly increasing sales to users for a number of months."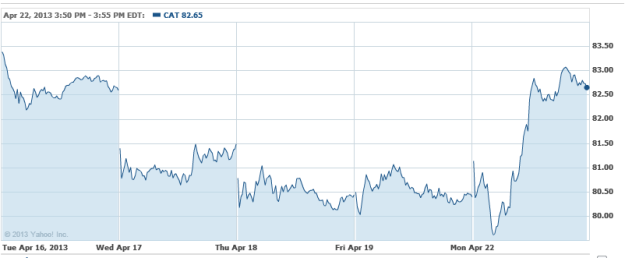 Sirius XM Radio (NASDAQ:SIRI): Current price $
Sirius has announced that it will provide listeners across the country with comprehensive coverage of the 2013 NFL Draft, from April 25-27, as it broadcasts every selection from every round and will offer live commentary and analysis leading up to and throughout the Draft on SiriusXM NFL Radio, along with additional coverage on the Mad Dog Radio and SiriusXM Fantasy Sports Radio channels.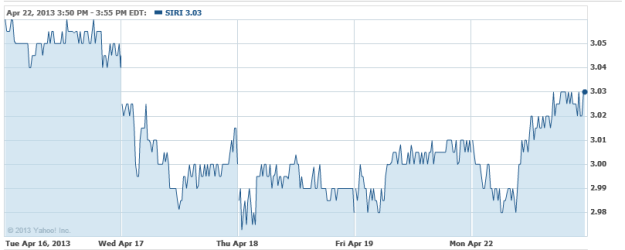 Don't Miss: Can Ford's Escort Resurrect as a Best Seller in China?