Ford Looks to Russia, Nokia and Siemens Work Out JV Solution, and 3 More Hot Stocks
Ford Motor Co. (NYSE:F): Weak sales in Europe have taken a significant toll on numerous automakers, but for Ford at least, the company is down, but not out. The automaker is planning to expand its operations in Russia, to help make up for the losses suffered elsewhere. Two 4X4s will be produced in the country, and the company is predicting that sales will rise in the second half of this year, as a result.

Nokia (NYSE:NOK): Shares of Nokia are on a tear on the announcement that the Finnish tech company will be buying out the 50 percent share of its joint venture with Siemens (NYSE:SI) belonging to the latter, for about $2.21 billion. "With this transaction, Nokia buys itself a future, whatever happens in smartphones and feature phones," Bernstein analyst Pierre Ferragu points out. The JV's current management and governance structure will be maintained.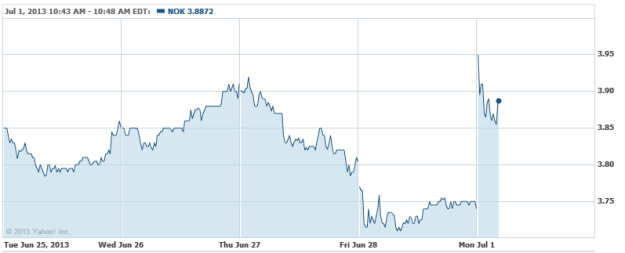 France Telecom (NYSE:FTE): A sale of a 9.7 percent stake in Aeroports de Paris to Credit Agricole as well as a construction company Vinci in two separate deals will earn the French government about 738 million euros, as it mounts efforts to reinforce its fragile finances. However, the continued divestiture of stock raises the possibility that the country might look to shed some of its assets in France Telecom, especially with rumored spending cuts on the horizon.

Covidien plc (NYSE:COV): Covidien's spinoff of its pharmaceutical business, Mallinckrodt, hits the New York Stock Exchange today, under the ticker MNK. Mallinckrodt issued one share for every eight Covidien shares held on June 19th, while the latter is left with its medical devices and supplies operations.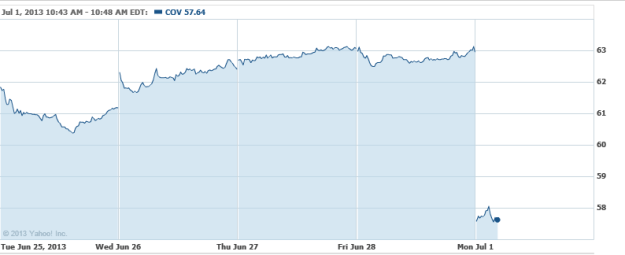 Don't Miss: Is the Ford Tremor Primed to Fly Off the Lot?