Ford Makes Gains in China, News Corp.'s Murdoch Admits to Bribery and 3 More Hot Stocks
Ford Motor Co. (NYSE:F): Not only did Ford have a great month of June domestically, but it's Chinese operations saw sales growth of 44 percent during the same period. For the first six months of the year, Ford China's sales soared 47 percent to 407,721 vehicles, buoyed by new models and plant expansions. Ford's sales growth has outpaced that of the Chinese auto market, and has helped the manufacturer pick up crucial market share in the region.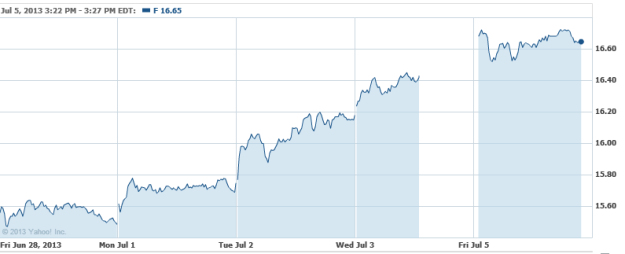 News Corporation (NASDAQ:NWSA): Rupert Murdoch revealed in a speech in the U.K. that the company was well aware of payments to police for news tips. "That's been going on a hundred years, absolutely," Murdoch was quoted as saying to a group of reporters, many of whom had been arrested for trying to bribe officials. Just last year, Murdoch told a parliamentary hearing that "paying police officers for information is wrong."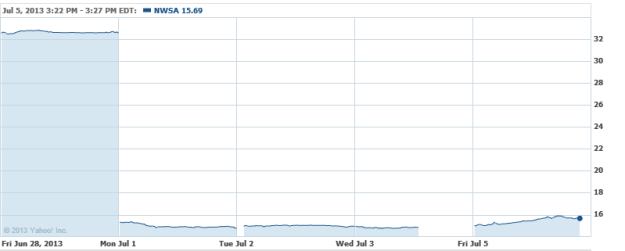 Lake Shore Gold Corp (NYSEMKT:LSG):  Shares are up over 3 percent after the company said that it recorded gold output of 30,800 ounces during the second quarter, up 26 percent year-over-year, and 33 percent quarter-over-quarter. Mill throughput averaged 2,540 tons per day, and more than 2,800 tons per day during the final three weeks of June.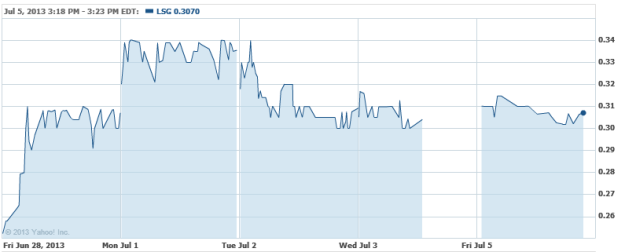 Deutsche Bank AG (NYSE:DB): South Korea has brought Deutsche Bank to task for "systematically violating" the country's capital market laws, in what "amounts to a first strike" for the Korean division of the bank. The Financial Supervisory Service has issued an "institutional warning" for Deutsche Securities Korea's alleged role as an unlicensed intermediary for foreign debt issuance. Companies can rack up as many as three warnings before the government can "order a partial or full business suspension."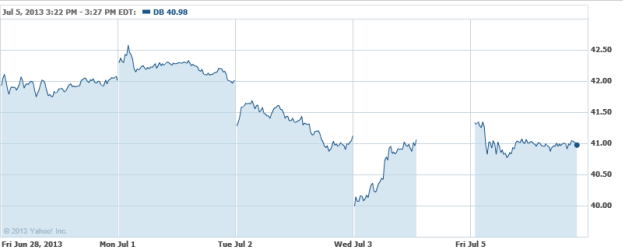 Dell Inc. (NASDAQ:DELL): Michael Dell and Silver Lake will not be increasing their bid to compete with Carl Icahn's, despite the special panel at Dell urging them to do so. A source tells Bloomberg that a higher bid is being ruled out as the current one "represents a fair and significant premium" to where Dell would trade if the deal collapsed. It also signals that Dell and Silverlake are not concerned about Icahn's offer as it stands.