Ford Receives Restrictor Plate from Europe
Earlier this month, it was reported that March auto sales increased about 13 percent, compared to a year earlier. In total, auto makers sold 1.4 million light vehicles in March, according to Autodata Corp. It rounded out the best quarter for U.S. vehicle sales since 2008. However, the recently released quarterly results from Ford Motor Co. (NYSE:F) shows international concerns are still weighing down automakers.
Before the opening bell today, Ford reported financial results for the first-quarter. The Michigan-based company earned $1.4 billion (35 cents per share), representing a 45.1 percent decrease from a year earlier. Pretax operating profit fell $544 million to total $2.3 billion. Revenue also declined 2.2 percent to $32.4 billion, as the number of vehicles sold in Europe dropped 60,000 units and Asia-Pacific-Africa sales fell 25,000 units. The softer sales resulted in a loss of $149 million in Europe and a $95 million loss in Asia-Pacific-Africa. Sales of new vehicles in Europe fell to their lowest level since 1995.
Don't Miss: Ford Announces Unprecedented Move During Earnings
"Our team delivered a solid performance during the first quarter, with particularly strong results in North America, despite a challenging global external environment," said Alan Mulally, Ford CEO. "We remain focused on investing for future growth and developing outstanding products with segment-leading quality, fuel efficiency, safety, smart design and value." Ford posted a profit of $2.1 billion in North America, compared to $1.8 billion a year earlier.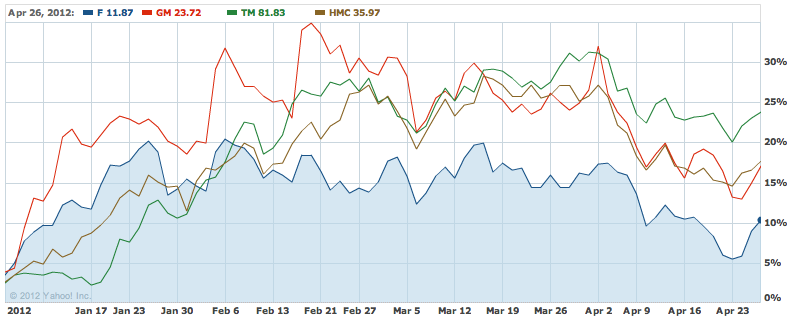 As the chart above shows, it has been a bumpy ride for auto stocks this year, but they are still in positive territory. Ford shares have gained almost 9 percent year-to-date. Meanwhile, General Motors Co. (NYSE:GM) and Honda Motor Co. (NYSE:HMC) shares have increased 17 percent and 19 percent, respectively. Shares of Toyota Motor Corp. (NYSE:TM) have outperformed peers, increasing nearly 24 percent year-to-date.
Despite European woes, Toyota is attempting to drive higher sales in the region. This year, the Japanese automaker is trying to shake off its reputation for staid and boring car design, readying the launch of Europe's first hybrid subcompact version of the Yaris and the GT86 sports coupe in an effort to turn back the meter on a falling sales graph in Europe, down 41 percent since 2007. "The real issue for Toyota is winning back customers," said Jonathon Poskitt, head of European sales forecasting at LMC Automotive in Oxford, England. "Toyota really needs to refocus on the requirements of what are sophisticated European customers that already have a great choice in new vehicles."
Going forward, Europe is likely to remain a concern for automakers and investors. Spain, the eurozone's fourth largest economy, announced on Friday that its jobless rate hit an 18-year high in the first-quarter. The unemployment rate increased to 24.44 percent, compared to 22.85 percent from the previous quarter. The news came a day after Standard & Poor's downgraded the country's sovereign credit rating for the second time this year.
Investor Insight: Did Amazon Create a Niche for the Kindle Fire?