Ford Reports Global CO2 Reduction and 2 Other Hot Stocks to Watch
Ford Motor Company (NYSE:F): Current price $15.65
In its 14th annual Sustainability Report, the automaker declared that it has successfully shrank CO2 emissions at its worldwide facilities by 37 percent per vehicle between 2000 to 2012, and is set to reduce emission level by 30 percent during 2010 to 2025. Further, Ford has been able to lower CO2 emissions at its global facilities by 4.65 million metric tons, or 47 percent,t since 2000. Additionally, the company reduced emissions at its United States facilities by 10 percent per vehicle built between 2002 and 2012. The report said that even emission levels from tailpipes have fallen by 16 percent with the introduction of new vehicles such as the Ford C-MAX Energi plug-in hybrid.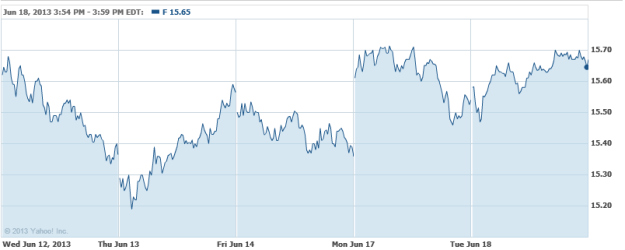 Microsoft Corporation (NASDAQ:MSFT): Current price $34.98
AllThingsD reports that Microsoft's Windows in the Classroom Surface Experience Project, which awarded 10,000 Surface RT devices, and appeared to be aimed  at educators, was only the first salvo fired in the firm's endeavors to push its new tablet into the education market. Now, the company offers significant discounts on Surface RT to schools on a global basis. On Monday, Microsoft announced that it would slash the price of the 32-gigabyte Surface RT by 50 percent for any school that buys the tablet between June 17 and Aug. 31.  The firm describes the rationale for the discount as part of its "long tradition of offering special pricing to education customers," and a "mission in education… to help schools, students and educators realize their full potential."

Advanced Micro Devices (NYSE:AMD): Current price $4.09
On Monday, AMD publicly revealed its strategy and roadmap though which to recapture market share in enterprise and data center servers, by debuting innovative products that address crucial technologies and meet the needs of the fastest-growing data center and cloud computing workloads. Beyond that, AMD revealed the details of its 2014 server portfolio including best-in-class Accelerated Processing Units, two- and four-socket CPUs, and details on what it expects to be the industry's number-one ARM server processor. All this follows the announcement of the general availability of the AMD Optero X-Series processor, which is code named "Kyoto," dominating the small-core server market on every performance benchmark.

Don't Miss: Ford Has Applied Crisis Restructuring to Europe With Success.