Ford Rides Canadian Truck Demand and 2 Other Hot Stocks to Watch
Ford Motor Company (NYSE:F): Current price $15.64
On Monday, Ford said that its Canadian vehicle sales jumped by 0.5 percent in May year-over-year from 2012, due to robust demand for new trucks which more than outweighed a decline in car sales. The historic automaker said that it ranked as Canada's number-one seller for the month, while total vehicle sales swelled to 32,490 from 32,338 in the same period in 2012. Out of this, truck sales rose by 4.6 percent to 23,537 vehicles, while car sales slipped by 8.9 percent to 8,953 vehicles. Thus far in 2013, Ford said that its Canadian vehicle sales are up by 5.7 percent year-over-year.

Bank of America Corporation (NYSE:BAC): Current price $13.31
It could be the beginning of the end of a lengthy court battle on Monday, when proceedings get started concerning an $8.5 billion resolution between Bank of America Corp and investors in mortgage securities that went wrong during the financial crisis. BofA agreed to the proposed accord in June 2011 so as to settle claims by investors who held bonds issued by mortgage lender Countrywide Financial Corp, which the former bought in 2008. Twenty-two institutional investors, including BlackRock, MetLife, and Allianz SE's Pacific Investment Management Co participated in the agreement, but American International Group and others wee opposed, saying that the arrangement offered them only a small part of the money they had lost. Justice Barbara Kapnick of New York State Supreme Court will decide the case without a jury, and has reserved the first two weeks of June to hear the case; should she reject the settlement, the parties could see years of litigation ahead.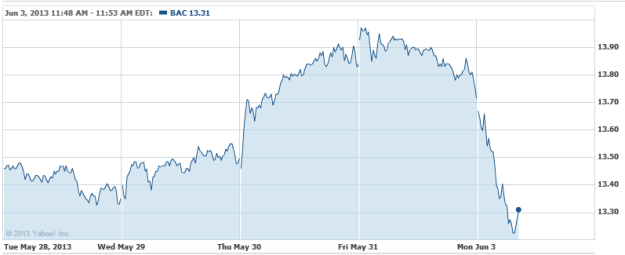 Affymax (NASDAQ:AFFY): Current price $1.65
Glancy Binkow & Goldberg are representing investors of Affymax in a class action lawsuit in the United States District Court for the Northern District of California, on behalf of a class comprised of all purchasers of Affymax securities between December 8, 2011 and February 22, 2013, inclusive. On February 23rd, Affymax and its strategic alliance partner Takeda Pharmaceutical Company Limited issued a joint statement of a nationwide voluntary recall of Omontys (peginesatide) Injection, which is a treatment for anemia stemming from chronic kidney disease in adult patients on dialysis. According to Affymax, the recall was related to "new postmarketing reports regarding serious hypersensitivity reactions, including anaphylaxis, which can be life-threatening or fatal." However, the complaint alleges that defendants did not disclose that 0.02 percent of patients who were administered Omontys experienced fatal anaphylaxis reactions.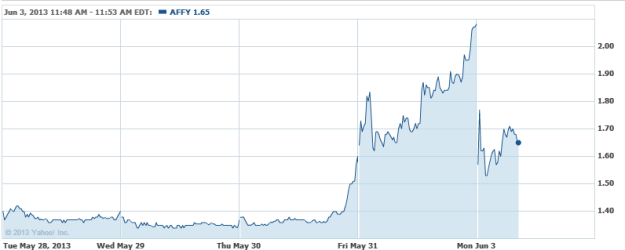 Investing Insights: Will Ford Motor Revive Its Legacy?