Ford Saves One Thousand Jobs In France and 2 More Heavily Traded Stocks to Follow
Ford Motor Company (NYSE:F): Current Price $14.79
Subsequent to reaching a deal Friday with local officials, Ford will keep 1,000 jobs at a plant in southwest France. Through the arrangement, local authorities will share the burden of new investments required to keep the factory going. For its part, Ford will invest 125 million euros, with the locals 12.5 million, to make a next-generation gearbox for compact cars in Europe, in return for guarantees to retain workers for at least five years. The French Industry Minister Arnaud Montebourg greeted the agreement and said he would ensure that it will be enforced to the letter.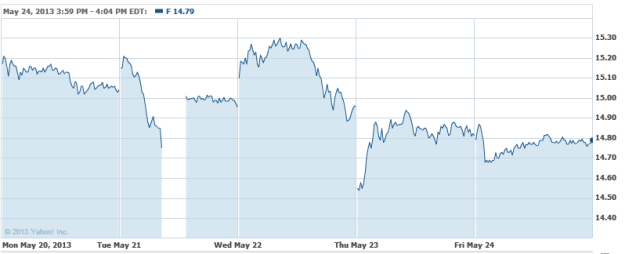 Boston Scientific Corporation (NYSE:BSX): Current price $9.09
Boston Scientific's Lotus device, which is inserted through a catheter into the heart to repair a damaged aortic valve, was safely implanted without any severe leakage in an evaluation being conducted for European approval. The findings exhibited at the EuroPCR meeting in Paris showed the Lotus device improved blood flow through the repaired aortic valve, without complications such as the necessity for by-pass surgery. One of the 60 patients experienced moderate regurgitation around the valve, which has been linked to a higher risk of death, but 79 percent had little to no leakage. Nearly 30 percent needed a pacemaker following treatment. Upon European approval, the valve from Boston Scientific would compete against devices from Medtronic and Edwards Lifesciences Corp.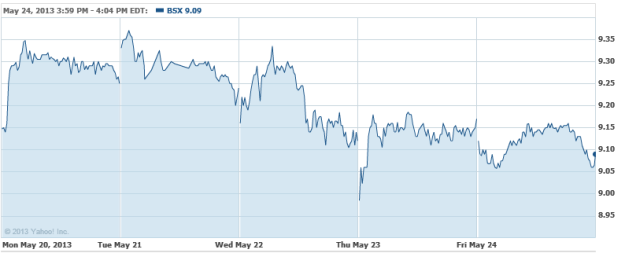 Dean Foods Company (NYSE:DF): Current price $10.11
On Friday, Dean Foods said that it has finalized its previously reported distribution of a total amount of 47,686,000 shares of Class A common stock and 67,914,000 shares of Class B common stock of The WhiteWave Foods Company, as a pro rata dividend on shares of Dean Foods common stock outstanding at the close on the record date of May 17. Based on the shares of Dean Foods shares outstanding as of May 17, which was the record date for the distribution, each share of Dean Foods common stock received 0.25544448 shares of WhiteWave Class A common stock and 0.36380189 shares of WhiteWave Class B common stock in the distribution.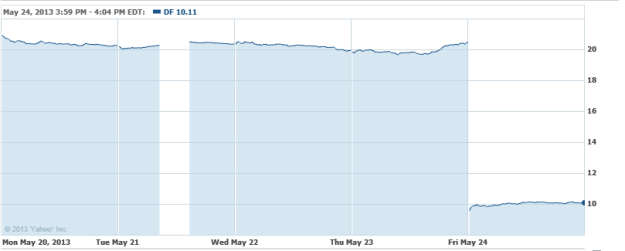 Don't Miss: Say Goodbye to Ford's Falcon.