Ford Sets 2 Weeks Downtime for Focus & C-Max Hybrids and 2 More Heavily Traded Stocks to Follow
Ford Motor Co. (NYSE:F): Current price $17.65
The iconic automaker has scheduled two weeks of down time at its factory that builds the Focus compact and C-Max hybrid cars in order to reduce inventory following the first drop in domestic auto sales in 27 months. Ford's Michigan Assembly Plant in Wayne, Michigan will shut the weeks of October 28 and December 16, according to spokeswoman Kristina Adamski, in an e-mail. The independent auto analyst Alan Baum at Baum & Associates explained that, "They don't want to get ahead of themselves. Ford has been focused on keeping their pricing in check. Their operating margin is in double digits. Nobody else is there and they're obviously very proud of that."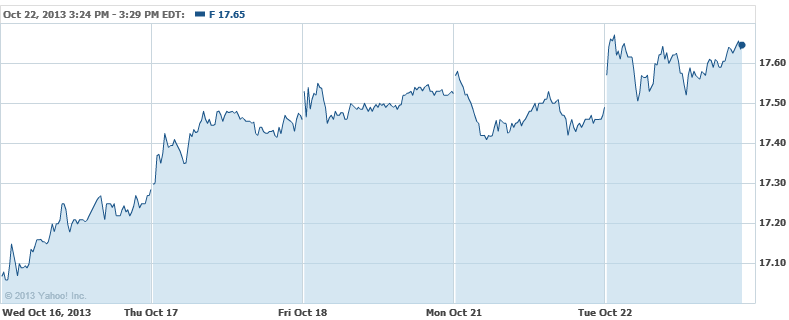 EMC Corp. (NYSE:EMC): Current price $24.12
EMC's Chief Operating Officer David Goulden said that the world's number-one data storage equipment maker, has lowered its full-year forecast due to the two-week government shutdown, sending its shares down more than 4 percent in very heavy trading. The company said that the shutdown caused it to miss its revenue estimate by around $120 million, which it will likely not get back. Goulden remarked that, "Orders from the U.S. federal government that were expected to close in the last weeks of the quarter did not." Analyst Daniel Ives at FBR Capital Markets observed that revenue from the United States government typically accounts for between 10 and 15 percent of EMC's total revenue in the third quarter, versus about 5 percent in the rest of the year.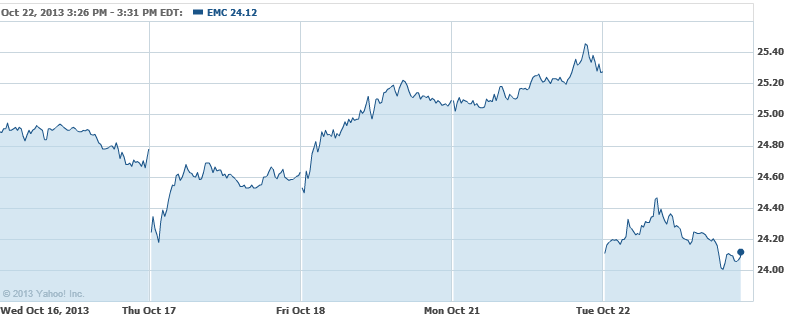 Alcoa Inc. (NYSE:AA): Current price $9.39
Alcoa and Russia's VSMPO-AVISMA Corp., the biggest manufacturer of titanium ingots and forged products on the planet, will join forces to address growing demand for high-end titanium and aluminum products for aircraft manufacturers worldwide. Once formed, the joint venture will unite Alcoa's expertise in manufacturing value-add products with VSMPO-AVISMA's world dominance in titanium output to make high-end aerospace goods, like landing gear and forged wing components, at Alcoa's plant in Samara.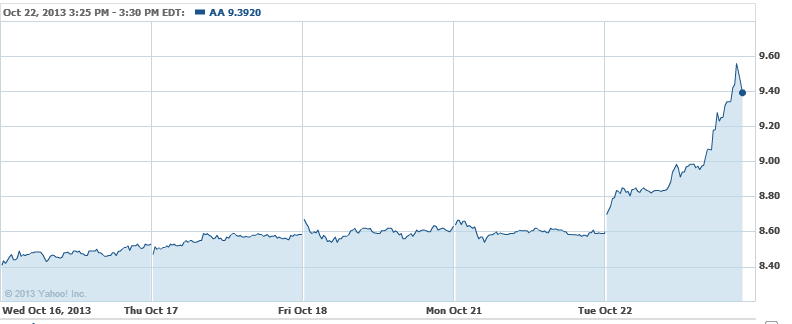 Don't Miss: In Its Mainstream Bid, Has the $105,000 Maserati Gone Too Far?