Ford To Add Over 2,000 Kansas City Jobs and 2 More Heavily Traded Stocks to Follow
Ford Motor Company (NYSE:F): Current price $13.41
The iconic automaker's Kansas City Assembly Plant will see over 2,000 now jobs in support of the high demand for the Ford F-150, alongside the planned output of the all-new Transit group of commercial vehicles beginning next summer. More than 1,000 of the slated number will be new hires. Ford F-Series sales were up 24 percent in April, 19 percent thus far in 2013; the full-size truck segment is increasing three times more rapidly than industry average and is now the fastest-growing segment this year.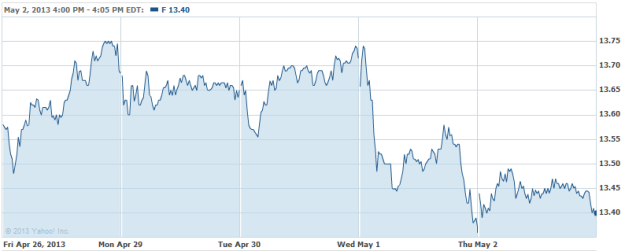 Micron Technology (NASDAQ:MU): Current price $9.32
On Thursday, Micron announced a new PCIe all-flash I/O accelerator, with which to enhance overall performance in enterprise servers, appliances and in storage platforms. The new Micron P420m joins consistent performance with the inherent power efficiency of an all-flash system, to provide improved economics for enterprise data centers. The P420m speeds performance of demanding data center applications, among which include online transaction processing  data warehousing and virtualization.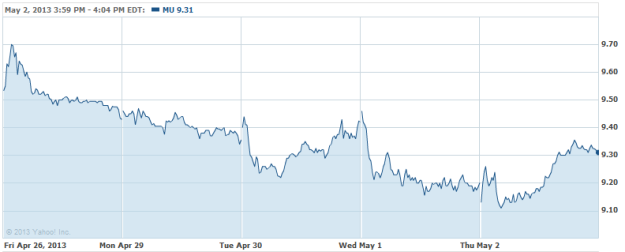 Sirius XM Radio (NASDAQ:SIRI): Current price $3.30
The company will offer $500 million of Senior Notes due 2020 to qualified institutional buyers, through Rule 144A under the Securities Act of 1933, as amended, and in foreign countries in compliance with Regulation S of the Securities Act.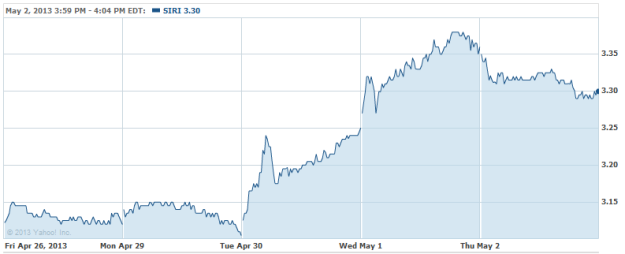 Don't Miss: GM's Bankruptcy Lesson: China is Better Than the U.S.