Ford to Compensate 2014 C-MAX Hybrid Buyers and 2 Other Hot Stocks to Watch
Ford Motor Co. (NYSE:F): Current price $16.40
On Thursday after the close, Ford announced a series of upgrades to the 2014 C-MAX Hybrid, ranging from improved gearing and additional aerodynamic pillars and deflectors to lower wind drag to higher-quality engine oil. Beyond that, the automaker says that from now on, it will test fuel economy on the C-MAX separately, and reduce its claimed gas mileage on the vehicle to 43 mpg.
To compensate buyers of the car who assumed that the old mpg number (47 mpg) was accurate, Ford says it will make "goodwill payments" of $550 to current C-MAX owners and $325 to lessees. In a statement, the company said that, "The enhancements to the 2014 C-MAX Hybrid are expected to improve customers' on-road fuel economy, especially at highway speeds."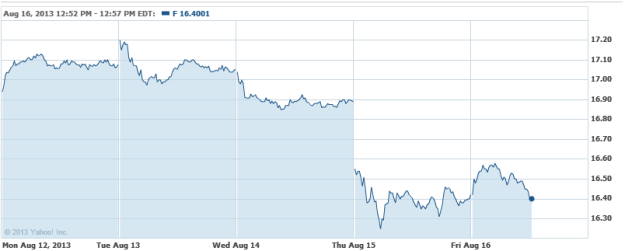 Facebook Inc. (NASDAQ:FB): Current price $37.14
On Thursday afternoon, Facebook disclosed that it has replaced its $1.5-billion unsecured revolver due in 2015 with a $6-billion, five-year revolver. JPMorgan and Bank of America Merrill Lynch acted as joint lead arrangers — the former acting as an administrative agent. Barclays, Citigroup, Morgan Stanley, BNP Paribas BNP Paribas, Goldman Sachs, RBC, Credit Suisse, HSBC, Standard Chartered, RBS, U.S. Bank, and Bank of the West were also participants in the transaction.
Pricing on the revolver is at L+100 with a 10 basis points as commitment fee, which did not pertain to the $1.5 billion revolver. So far, no amounts have been drawn under the facility.

Cole Real Estate Investments, Inc. (NYSE:COLE): Current price $11.30
Cole Real Estate announced on Friday the final results of its modified "Dutch auction" tender offer to buy for cash as much as $250 million in value of its shares of common stock. It was on the terms and subject to the conditions described in its Offer to Purchase dated June 20, which expired at 5:00 p.m., Eastern Time on August 8. Goldman Sachs and Lazard Freres & Co. LLC served as the dealer managers for the tender offer.
Calculated on the final count by The Colbent Corporation, the paying agent and depositary for the tender offer, 276,851,310 shares of common stock were properly tendered and not properly withdrawn at the final purchase price of $12.25 per share, including 26,381,194 shares that were tendered through notice of guaranteed delivery.