Ford Tops Toyota, Time Warner Drops Rubinov, and 3 More Hot Stocks
Ford Motor Co (NYSE:F): Ford has topped Toyota (NYSE:TM) in the American made ranking, with its F-150 pickup overtaking the Camry midsize sedan. The Camry held the honor for four years, with the F-150 snapping its streak this year, according to Cars.com's 2013 American-made index. The index ranks model lines based on their sales and whether car or truck parts and completed vehicles are built in the U.S.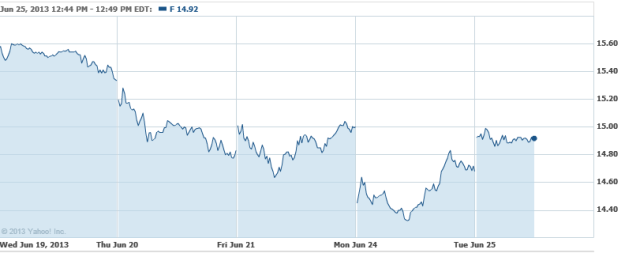 Time Warner (NYSE:TWX): Time Warner executive Jeff Rubinov will be departing the studio, as the company fills his position in with the combined forces of Sue Kroll, Greg Silverman, and Toby Emmerich. The loss of Rubinov is reportedly causing concerns to some analysts due to his close connection to key directors and actors.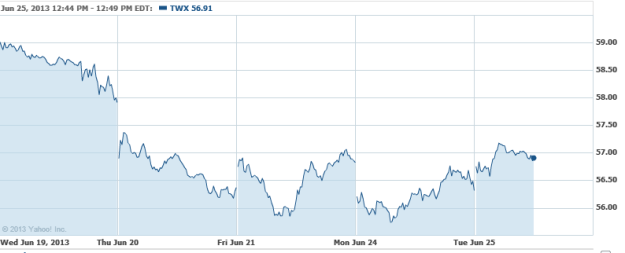 Chevron Corp. (NYSE:CVX): Chevron has signed a joint agreement with Cimarex Energy (NYSE:XEC) that will see to the development of 104,000 acres in the Permian Basin in west Texas, to be run by Cimarex. Chevron will pay $60 million for 50 percent of Cimarex's Triple Crown gathering system, and a 50 percent interest in the wells drilled this year.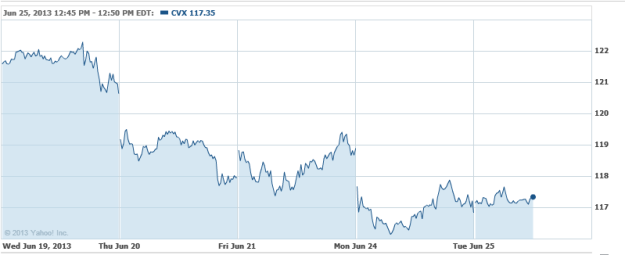 Ocean Power Technologies, Inc. (NASDAQ:OPTT): Shares are racing over 14 percent (following an equally strong premarket run) after announcing the award of a seabed survey contract in Australia, where the company hopes to construct a 62.5 megawatt peak rating wave power station, in conjunction with Woodside Petroleum. 

Don't Miss: 7 Cars That Have Made GM Forget the Bailout.