Ford Trucks Aid Habitat For Humanity In Detroit and 2 Other Hot Stocks To Watch
Ford Motor Company (NYSE:F): Current price $15.29
Ford and its iconic F-150 pickup truck are giving a helping hand to Habitat for Humanity Detroit, as it completes a milestone project in the city. A fleet of 2013 Ford F-150 trucks is transporting supplies on Wednesday to build the 100th home in the organization's Detroit's housing project in the Morningside Commons neighborhood. The donated two-by-fours and other materials will be utilized for the home's construction by volunteers, among which include members of Ford Volunteer Corps. Since 1990, Ford Motor Company Fund has supplied over $3.5 million in grants to Habitat for Humanity, and close to half of that has been earmarked for Habitat projects within Detroit.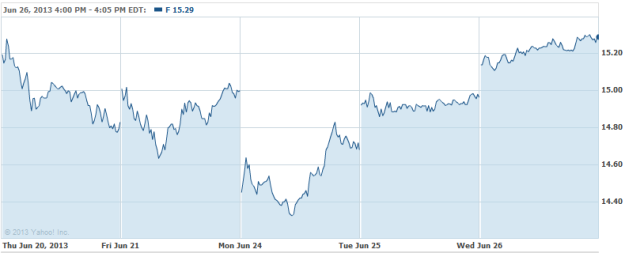 Alcatel-Lucent (NYSE:ALU): Current price $1.73
For the second time in under a week, Alcatel shares are seeing large call selling. OptionMONSTER systems indicated that in excess of 16,000 ALU options have changed hands, which is more than triple its daily average in the last month. Almost all of that volume is in the January 2015 2 calls. One trader sold smaller blocks for 45 cents, and then a big print of 11,267 for the bid price of 40 cents, marking new positioning, as the previous open interest in the strike was 5,641 contracts.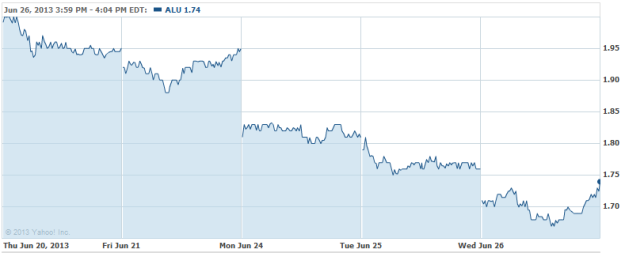 Qualcomm Incorporated (NASDAQ:QCOM): Current price $61.27
On Wednesday, Qualcomm said that its wholly-owned subsidiary, Qualcomm Technologies, is enabling the world's first LTE-Advanced smartphone, the Samsung Galaxy S4 LTE-A, which is powered by the Qualcomm Snapdragon 800 processor. The new Galaxy S4 LTE-A will debut on all three mobile operators' LTE networks in Korea, beginning with SK Telecom, followed by KT and LGU+. The new device will be the first smartphone to employ LTE carrier aggregation for data rates of as much as 150 Mbps, which is double what current LTE speeds offer.